Thursday, February 20th, 2014

Posted by Jim Thacker
Autodesk rolls out Autodesk Character Generator
Autodesk has launched Autodesk Character Generator, a new web-based service that enables users to create fully rigged 3D characters for export to applications like Maya, 3ds Max or Unity.
The service, which is free to use, but requires Autodesk Cloud Credits to access more advanced features, is based on Autodesk Labs' work-in-progress Project Pinocchio, which went into public testing early last year.
Simple character creation workflow
The site uses a workflow familiar from figure-posing software, enabling users to create custom characters from a sizable library of body types, outfits, hairstyles and physical attributes.
In practice, that means you pick one of 17 base characters (male, female or humanoid), then drag sliders to adjust bodily and facial proportions, blending between a fairly large library of head and body morphs.
You can then customise the character's surface attributes by dragging and dropping from a library of skin and eye textures; and assign preset hairstyles and clothing.
Saved characters can be exported in MB or FBX formats at a range of preset resolutions – both for the geometry and the rig. You choose the scale of the model, which texture maps to export, and whether to include clothing.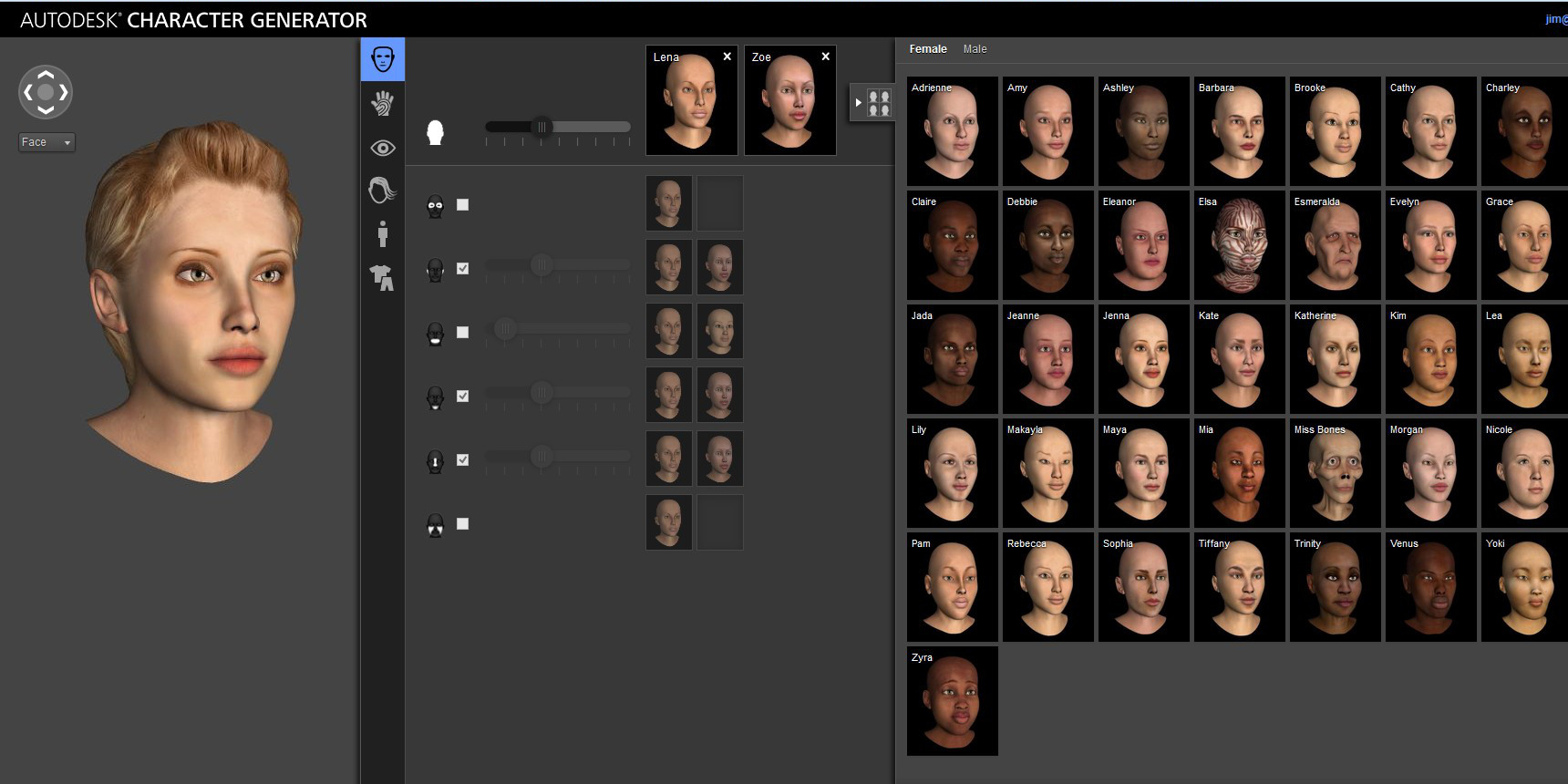 The service lets users create custom characters by blending between a library of ready-made head and body morphs, then dragging and dropping on textures, hairstyles and pre-built outfits.
When we tested the site this morning, character creation worked smoothly, and we were pleasantly surprised by the number of stock body parts available, although it did take a while to generate the downloadable asset.
As with Fuse, Mixamo's similar online service, you wouldn't want to use ACG's output for hero shots without manual editing – from the free service, at least – but it would be fine for previz-quality work.
Free and premium options
There isn't much to choose between paid and free accounts when it comes to customising characters: the paid version gives access to two more extreme body morph types, but they're only needed for stylised characters.
However, it does make a difference when it comes to mesh resolution and the character rig: if you're using the free version, you're confined to a low-res mesh, and you don't get a facial rig or blendshapes.
According to the site, use of Autodesk Character Generator is an "additional service" if you have a subscription to one of its entertainment software products, or rent 3ds Max, Maya or a product suite on pay-as-you-go.
We aren't sure if that automatically gives you access to the premium features, or just the option to buy cloud credits to use them, but we'll update when we've confirmed this with Autodesk.
Updated: We've spoken to Autodesk, who told us: "You cannot currently buy cloud credits [and therefore use ACG's premium features] if you are not on subscription or a rental plan. Every subscription and rental customer receives a one-time allotment of 100 free cloud credits. Given that Character Generator is M&E's first cloud service, M&E customers will be able to use their free cloud credits to generate up to 20 premium characters in the app, while still having access to unlimited free low-resolution and crowd characters."
Additional cloud credits cost $100 for 100, which would make further downloads of hi-res characters $5 a pop.
You can try Autodesk Character Generator now via the link below.
Use Autodesk Character Generator online (Requires free Autodesk user account)
Read more about the transition from Project Pinocchio to Autodesk Character Generator