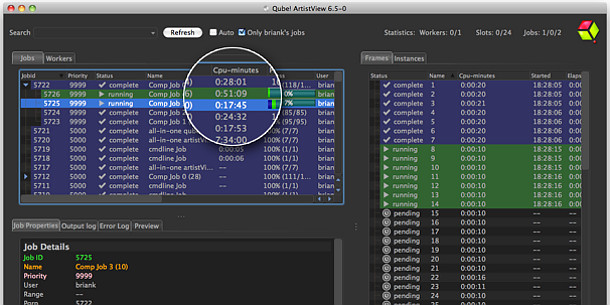 Qube! 6.5's new cumulative time-tracking option. Developer PipelineFX claims that better cost-reporting features in its renderfarm-management system help turn a "money faucet" into a clean, efficient pipeline.
PipelineFX has released Qube 6.5, a free update to its renderfarm-management system that makes a direct appeal to a studio's bottom line, rather vividly describing an inefficient pipeline as a "money faucet".
The tools the update provides to address the issue – better job tagging to tie farm usage rates more closely to invidual clients, more sophisticated time tracking, and the like – are rather more prosaic, but it's certainly a more compelling metaphor than you usually get with systems of this type.
Qube! 6.5 is available now for Windows, Mac OS X and Linux. Per-site pricing begins at $3,500: you can find more details in PipelineFX's FAQs.
PRESS RELEASE (Excerpts)
PipelineFX, creator of the leading render farm management software for digital media creation, announces the release of Qube! 6.5. New tools for job tagging, configuration, and reporting round out Qube!'s most feature-rich offering to date; while improvements to Smart Farming functionality promote a simpler path to pipeline intelligence.
During this development cycle, PipelineFX tackled two areas that will bring immediate results to their customers. The first: detailed cost reporting for firms that manage rendering across multiple shows and clients. The second: an increased ability for larger studios to minimize supervisor downtime and easily re-configure their render farm as situations and usage rates shift.
"In this time of industry turmoil, understanding the real economics of visual effects has become more important than ever," stated Richard Lewis, CEO of PipelineFX. "Tools like cost accounting and the ability to Smart Farm actionable intelligence from your render pipeline offer proven methods for accurately assessing and correcting inefficiencies."
"With Qube! 6.5's new features, we will be able to track our farm utilization down to the shot level," said Tony Pelle, Director of Production Technology for Rainmaker Entertainment. "Insightful data on job efficiency is what our artists and supervisors need to keep our productions on track. And with less maintenance downtime to look forward to, we'll have more time to refine the render farm to meet the ever-changing demands of our productions."
New Qube! 6.5 Features:
"Show, Shot, Sequence" and user-definable job tags – provides detailed insight into how farm usage rates are mapped to projects and/or clients
Supervisor configuration re-read – global resources, configurations and more can occur without a supervisor reload, leading to an increase in uptime
App-Finder – allows a job to be distributed across mixed OS farms simultaneously
Cumulative time tracking – total job time spent on the farm in CPU-seconds can be revealed by jobs, frames, and retries (even across varying numbers of CPUs)
Updated application support – Qube! 6.5 now works with Autodesk 2014 products, and supports Maxwell Cooperative Rendering with "resume rendering" support
"Show me inefficiency and I'll show you a cost center," added Lewis. "With Qube! 6.5, organizations of all types and sizes can trade their money faucet for a pipeline that is clean and responsive."
Pricing and Availability
Customers currently on subscription can download version 6.5 immediately from the PipelineFX FTP site.
Read more about Qube! on the PipelineFX website
Tags: cost reporting, job tracking, new features, pipeline, PipelineFX, Qube!, Qube! 6.5, render farm management, renderfarm management, time tracking, update