Thursday, October 6th, 2016

Posted by Jim Thacker
PipelineFX ships Qube! 6.9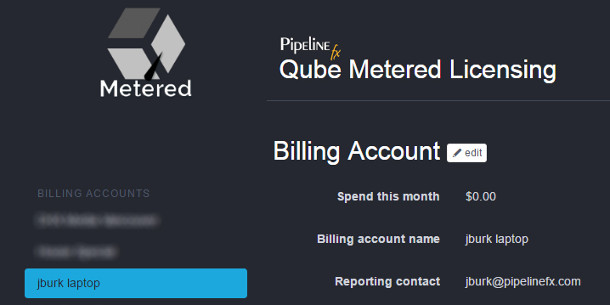 PipelineFX has released Qube! 6.9, the latest version of its renderfarm management software. The update makes pay-per-minute metered licensing the default within Qube! and adds support for Katana and Redshift.
Metered licensing now enabled by default
Announced earlier this year, PipelineFX's new metered licensing system enables clients to pay for Qube! licences on a per-machine, per-minute basis at a rate equivalent to $0.10/hour.
Although it's possible to run your entire renderfarm in this way, PipelineFX envisages it primarily as an easy way to add the necessary licences when spinning up extra cloud render instances during busy periods.
Metered licensing is now built into Qube! 6.9 as the default Supervisor licence, although "paid licenses will always be used first, so added costs never occur until everything has been exhausted".
Support for Redshift and Katana, updated GUI
Other new features in Qube! 6.9 include support for Katana, The Foundry's lighting and look dev toolset, and Redshift, Redshift Rendering Technologies' increasingly popular GPU-based production renderer.
In addition, the ArtistView GUI has been overhauled to offer OpenImageIO support, a clearer preferences screen, and an improved colour scheme for users with colour blindness.
Users can also now assign and prioritize jobs by cluster.
Pricing and availability
Qube! 6.9 is available now for Windows, Linux and Mac OS X. As well as metered licensing, software rental costs $2/day to $15/month, while packages of perpetual licences start at $500.