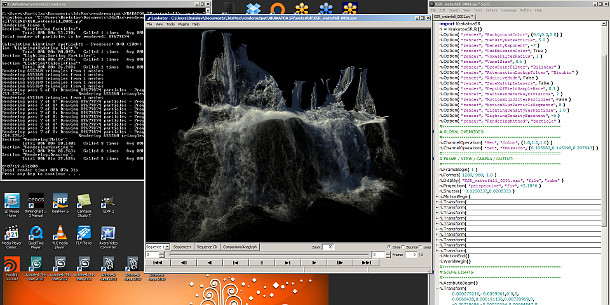 Thinkbox Software has released Krakatoa SR, the new standalone version of its high-volume particle renderer originally announced at Siggraph last year. The renderer is already available for 3ds Max and Maya.
The release opens up Krakatoa to users of other software, and the official news release (below) comes with suitably approving quotes from beta testers about how easy it is to integrate into an existing pipeline.
Krakatoa SR is available now for Maya and Linux. Unlike its sister applications, it's priced on request.
Updated 13 March: Thinkbox has been in touch to confirm that the price of a single licence is $495: it's the Krakatoa Render option on the online price list.
PRESS RELEASE (Excerpts)
Thinkbox Software announces the release of Krakatoa SR, a standalone version of Thinkbox Software's high-volume particle renderer for Microsoft Windows and Linux operating systems that can be integrated with any 3D content creation application.
Previously available for Autodesk 3ds Max and Autodesk Maya 3D software, Krakatoa is CPU-based, highly optimized, heavily multi-threaded, and can be used successfully on most hardware running Windows or Linux operating systems, including laptops and render nodes, without dedicated high-end graphics accelerators. Krakatoa SR exposes both a Python-based interface and a C++ API to connect to various professional 3D applications such as The Foundry''s Nuke or Side Effects Software's Houdini.
Key features of Krakatoa SR include:
Point or voxel representation of particle data, with various filter modes, motion blur and depth of field camera effects, and HDRI render passes output to OpenEXR files
Support for both additive and volumetric shading models at the same time, with per-particle control over color, emission, absorption, density and more
Support for various light scattering algorithms, high-quality self-shadowing and occlusions from both geometry and DTEX maps
Particle loading of Krakatoa .PRT file sequences, RealFlow .BIN file sequences and .CSV file sequences, with the ability to offset, retime, combine and modify already cached particles
Procedural particle creation from polygon mesh volumes and mathematical algorithms
Particle repopulation for render-time conversion of low-count simulations into high-count particle clouds
""Integrating Krakatoa SR with our existing toolset was easy and we were able to get it rolling without much effort,"" said Arun Ramasamy, Software Engineer, Anatomical Travelogue, an award-winning creator of incredible high-end 3D visualizations based on actual human data. ""We received constant support from the Thinkbox development team and it worked so well that we are developing Krakatoa into a functional particle rendering pipeline inside eyeon Software''s Fusion.""
""Krakatoa SR allows us to exploit the power of the Krakatoa particle renderer through a ridiculously simple API,"" added Sven Thomas, Software Engineer, Anatomical Travelogue. "We can just choose the channels we need, stream the particles to the renderer and see the results at an amazing speed.""
Haggi Krey, Visual Effects Supervisor at Ambient Entertainment, has been using Krakatoa SR for work on the upcoming animated film Tarzan, which is scheduled for release in 3D later in 2013.
""When we switched our fluid pipeline to Naiad for Tarzan, we had been searching for a way to do high-quality particle rendering and were extremely excited to get our hands on Krakatoa SR,"" Haggi explained. ""We were able to implement Krakatoa SR based on the open source OpenMaya framework and Partio library, and now we can read any particle system from almost any software and render in Krakatoa. Without Krakatoa, it would be impossible to get the required quality on some of our shots.""
Krakatoa SR is compatible with the network rendering licenses used by the other Krakatoa implementations (Krakatoa MX and Krakatoa MY).
Read more about Krakatoa SR on the Thinkbox Software website
Tags: Krakatoa, Krakatoa MX, Krakatoa MY, Krakatoa SR, particles, renderer, standalone, Thinkbox Software, volumetric