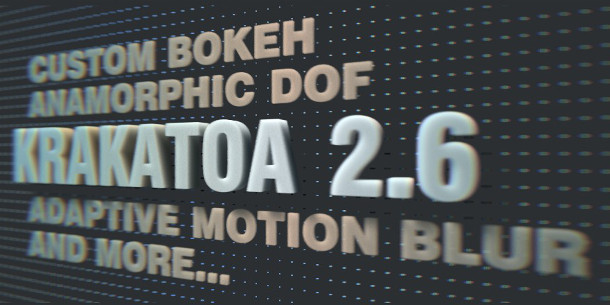 Thinkbox Software has released Krakatoa MX 2.6 and Krakatoa MY 2.6, the latest updates to its heavy-duty volumetric particle renderer for 3ds Max and Maya, improving handling of DoF and motion blur.
Faster, more controllable depth of field and motion blur
In both editions, the update extends the options available when rendering with depth of field or motion blur.
Depth of field now supports user-defined Bokeh effects and anamorphic squeeze. Calculation times have also been reduced on multi-core machines, with Thinkbox claiming a 2x speed increase in "extreme cases".
The new Adaptive Motion Blur option improves render times on shots in which particle speed varies greatly.
Previously, Krakatoa rendered a fixed number of passes in order to accommodate the fastest-moving particle in a series of frames. The number of passes is now determined automatically, up to a user-defined maximum.
Finer control over particle cloning and channel data editing in Krakatoa MX
The 3ds Max edition of the software, Krakatoa MX, also introduces a number of new options providing finer control when manipulating particle simulations.
The existing Delete and PRT Cloner modifiers – the latter of which replaces single particles with sets of particles, increasing the density of a simulation – get new World Space Modifier versions.
Multi-level cloning without Source channel collisions is also now possible.
In addition, Magma, Krakatoa's system for editing particle channel data, "adds a large number of Random operators, and the Noise operators now expose a new Phase input which can be controlled per-particle".
Pricing and availability
Krakatoa MX 2.6 is available now for 3ds Max 2012 and above on Windows only. Krakatoa MY 2.6 is available now for Maya 2014 and above on Windows, Linux and Mac OS X.
Workstation licences of both editions cost $1,000; additional multi-platform render licences cost $495.
The standalone and Cinema 4D editions of the software, Krakatoa SR and Krakatoa C4D, have not been updated this time round, and remain on version 2.2 and 2.4 respectively.

Read a full list of features in Krakatoa 2.6 MX
Read a full list of features in Krakatoa MY 2.6
Tags: 3ds max, adaptive motion blur, anamorphic squeeze, Bokeh, depth of field, Krakatoa, Krakatoa MX, Krakatoa MX 2.6, Krakatoa MY, Krakatoa MY 2.6, Magma, Maya, new features, particle editing, particle renderer, particle simulation, performance, price, PRT Cloner, PRT Delete, speed, Thinkbox, Thinkbox Software, volumetric