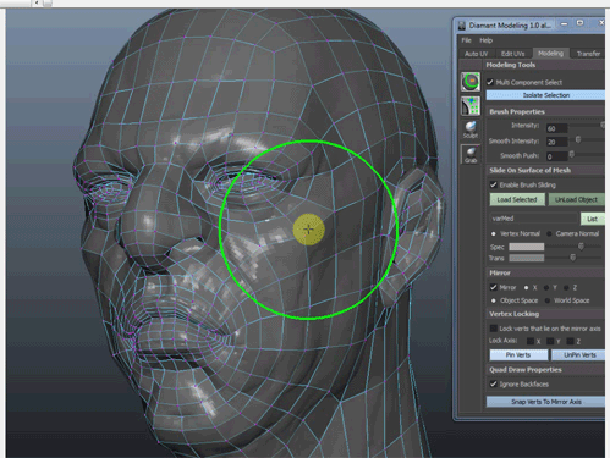 Diamant Modeling Tools' Slide On Mesh feature in action. The free add-on provides a new set of modelling, retopology and UV editing tools for Maya 2011 and above.
Blizzard Entertainment's lead character modeler, Rich Diamant, has released an alpha version of Diamant Modeling Tools: a suite of modelling and UV editing tools for Maya 2011 and above.
The software was previously known as Diamant UV but has been renamed to reflect its new-found modelling capabilities – which include brush-based modelling directly within Maya and custom retopology tools.
"If you have used Diamant UV in the past, you need to try this new version out!" enthused Diamant on CGTalk. "Every aspect has been vastly improved in terms of functionality, speed, and stability. I am very proud to finally get this version out to the public. It really has been years of my free time in the making."
Features in Diamant Modeling Tools include:
Custom selection brushes for UV Edge and Anchor marking
Automatic UV mapping
Custom UV editor with color distortion
Maya UV editing tools
UV ratio
Symmetrical brush-based modeling tools
Custom retopology tools
Mesh sliding
Mudbox/Zbrush-style brushes
Topology point transfer
Diamant Modeling Tools is available now for Maya 2011 and above, running on 64-bit Windows systems. A 32-bit edition is currently in development.
The software is currently in use in production at Blizzard and Naughty Dog, Diamant's previous employer.
Updated 29 July 2012: Diamant Modeling Tool 1.0 (it seems to have lost its final 's' along the way) is now out of alpha and available commercially, price $199.
Visit the Diamant Tools homepage
Tags: alpha, Blizzard, brush based modelling, Diamant Modeling Tools, free, Maya, naughty dog, plugin, retopology, Rich Diamant, sculpting, UV editing