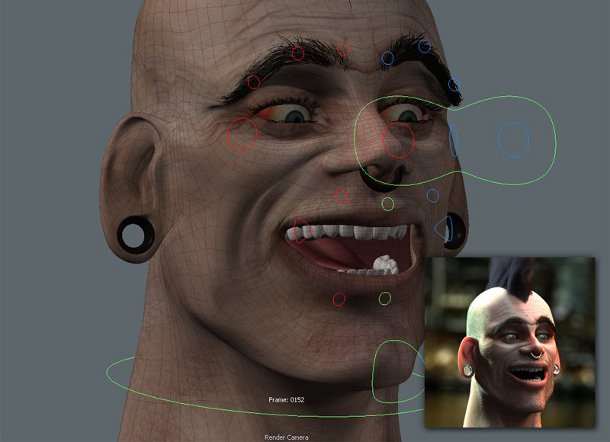 Whaddya mean, we've finally got character animation tools? A facial rig by modo 601 beta tester Matt Cox illustrates the biggest – but by no means the only – feature of Luxology's 'most significant ever' update.
Luxology has released its "most significant ever" update to modo, adding a suite of character animation tools to the modelling, rendering and technical animation package.
The new character toolset in modo 601 includes most of the features you'd expect in an animation package, including a full range of deformers, bones, weight map painting and switchable FK/IK – but also a few you might not, including a Pose tool (think ZBrush's Transpose, but capable of creating rough animations through positioning poses on the timeline) and Maya 2012-style visible motion paths and a silhouette display mode.
Not just for character animators
For users working in the entertainment industry, the addition of character animation – a repeated user request during the past five years of the software's developement – may overshadow everything else in the release: which would be a shame, since modo 601 packs an awful lot else under the hood.
Other key new features include the integration of the Recoil dynamics system, formerly available as a $199 plugin; what Luxology claims to be the fastest retopology system of any pipeline application; a new volumetric primitive type; and sundry improvements to modelling, texturing and rendering.
As an indication of just how large the new feature set is, the top-level technical summary supplied to journalists in advance of the release runs to eight pages and lists over 50 major features.
Below, you can find a much more condensed version of what's new in modo 601. Tomorrow, we'll post an interview with Luxology president Brad Peebler that discusses the thinking behind them.
modo 601 is available now for Windows and Mac OS X 10.6+. The price has increased by $200, to $1,195.
PRESS RELEASE (Excerpts)
Luxology® LLC today announced the immediate availability of modo® 601, a landmark release of its award-winning, artist-friendly 3D content creation software. modo 601 includes character animation, built-in dynamics, volumetric rendering, and enhanced retopology modeling tools along with a host of other new capabilities. modo is now a full pipeline solution for professionals working in media and entertainment, advertising, engineering and architectural design visualization.
"modo 601 is our most significant release ever," said Brad Peebler, president and co-founder of Luxology. "With new feature and workflow enhancements, modo now offers an end-to-end production solution that is both powerful and highly usable by artists and designers."
modo 601's new feature and workflow improvements include:
Character Animation: modo offers a range of character animation functionality from easy-to-use posing tools to the creation of fully articulated character rigs that can be manipulated through a full-body inverse kinematics solver and a general purpose system of layered deformers.
Dynamics: Rigid and soft body dynamics, based on Version 2.79 of the Bullet Physics engine, are now a standard part of modo and provide realistic simulations of mechanical and organic motion.
Retopology Modeling: Focused tools and a new dedicated retopology modeling layout simplify the rapid creation of clean models on top of imported geometry.
Rendering and Shading: New photorealistic rendering capabilities include volumetric rendering, render booleans, hair and skin shaders, and rounded edge control for hard surface models. Cel, contour and halftone shaders offer enhanced non-photorealistic rendering opportunities.
3D Paint: The multi-purpose paint system in modo 601 is extended to paint, scale, erase and smooth vertex (weight) maps on meshes.
Rendering Workflow: The Preview Renderer can now be used for final image production as it will progressively render an image to the desired resolution at full quality. A comprehensive render pass system, plus new interactive image processing and comparison tools, speed image refinement.
Modeling: modo's Pixar Subdivision surface modeling now includes the ability to crease individual vertices and control display resolution while rendering at full quality. Soft and lazy selection options enable rapid, yet precise isolation of model components while modeling.
"Throughout my 18 years in the 3D business, I've never seen a 3D software application become so powerful, so fast," said Dan Ablan, President – AGA Digital Studios, Inc. "The additions to modo 601 are mind blowing, and the render boolean function, blobs, and new deformer tools are absolutely invaluable!"
"This is character animation done right," said Greg Brown, beta tester and Sr. CGI Artist at Alter. "We've all been holding our breath for this one and it was definitely worth the wait."
Pricing and Availability
modo 601 is available immediately for both Mac OS X and Windows at $1,195 with an upgrade price of $495. Existing modo owners can upgrade for $395 for the next two weeks. Also, for a limited time, users of Maya, 3ds Max, SoftImage, Houdini, CINEMA 4D, and LightWave 3D are offered a crossgrade to modo for just $795. modo 601 is available from Luxology and its network of authorized Luxology resellers around the globe.
See the full set of features in modo 601
Watch video tutorials for the new features
Tags: Bullet physics, Character Animation, deformers, dynamics, FK, IK, Luxology, modo 601, Pose Tool, recoil, rendering, retopology, Topology Pen, update, volumetric