Wednesday, February 29th, 2012

Posted by Jim Thacker
Luxology releases two new 'CAD Loaders' for modo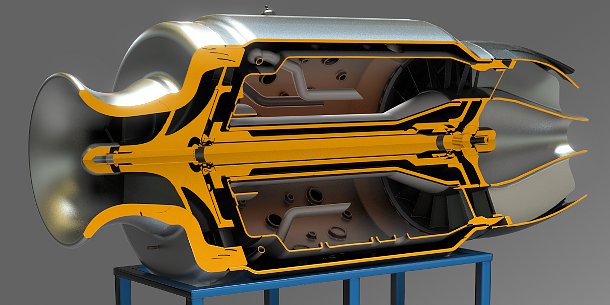 Luxology's new loaders aim to make it easier to import and clean up heavy CAD data inside modo 601.
Luxology has released a set of two 'loaders' for importing CAD data into modo 601, also shipping today.
The tools are designed to address key practical issues with getting heavy CAD scenes into DCC applications, including mesh density, editability and data redundancy.
"You can push a big bag of polygons through our renderer – and that's fine if that's all you want to do, but it's difficult if you need to animate them," said Luxology president Brad Peebler, speaking at a pre-launch briefing.
The new CAD Loaders are intended to generate something more useful than that 'big bag of polygons'. Imported geometry is retained inside modo as parametric surfaces with the option to convert to quads, n-gons or a mixture of the two for rendering.
Repeated parts of models may be imported as copies, instances or modo replicators, making heavy scenes more responsive to work with; while a bounding box-based system automatically aligns individual elements to one another, ready for animation.
The Basic CAD Loader is a standalone importer for the Parasolid XT file format and costs $495, while the Advanced CAD Loader adds support for IGES and STEP files, and costs $695.
PRESS RELEASE (Excerpts)
With the release of the new CAD Loaders for the recently announced modo® 601 software, CAD designers working with XT, IGES, and STEP files will now be able to use Luxology's powerful 3D software to create photorealistic images and animations.
CAD Loaders for modo are based on Parasolid® technology, an industry-leading geometry kernel whose data files, according to Siemens, account for over 40% of all 3D model data stored worldwide. As models are loaded into modo, the CAD surfaces can be dynamically tessellated for optimum use in modo's modeling and rendering operations. Real-time rendering previews and dynamic editing tools in modo can then be used to turn base designs into immersive, photorealistic graphics.
Key benefits of CAD Loaders
Industry Standard Parasolid Technology: Support for Parasolid XT, IGES and STEP files allows CAD designers and other modo users to access design and engineering files produced in leading CAD systems worldwide.
Expanded Flexibility for Surfaces: Incoming surfaces are maintained as parametric surfaces in modo which allows for alternate tessellation parameters to be applied dynamically under user control. Resulting meshes can be saved as convex polygons or a combination of quads and n-gons.
Efficiency: Many CAD files are characterized by large amounts of repeated data elements. With the Instance Handling feature of the CAD Loaders, modo users get the choice of loading instance-laden files as copies, instances, or modo replicators, which can greatly reduce memory use and boost interactivity.
"The CAD Loaders are an awesome addition to my workflow," says Paul McCrorey, a modo user and president of McCrorey Digital. "By eliminating triangles from my imported geometry, I get quad-based results and moldable assets that are easier to use and require a lot less memory. This allows me to take my work to the next level no matter what program I start in. I love that."
Pricing and Availability
CAD Loaders for modo are available immediately from authorized Luxology resellers and on Luxology's website. The Advanced CAD Loader for modo 601 includes XT, IGES, and STEP file loaders priced at $695.00, while the Basic CAD Loader is a Parasolid XT standalone file loader priced at $495.00. CAD Loaders for modo are compatible with Microsoft Windows and Mac OS X.
Read a full list of features in the new CAD Loaders on the Luxology website