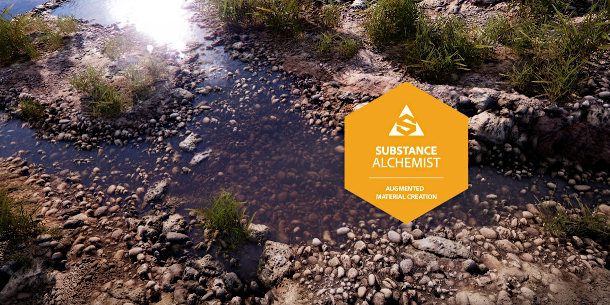 Image created using Substance Alchemist by Jan Golmic.

Adobe has released Substance Alchemist 2.1, the latest version of its material authoring software, adding a new export window with presets for common DCC tools and game engines.
The release is the first significant update to the software since its official release last November, which was described as Substance Alchemist 2019.1 or Substance Alchemist 1.1.
The newest addition to the Substance product family, Alchemist is a standalone tool for "augmented digital material creation", supporting workflows for editing 3D scan data, hand painting and parametric design.
New export window streamlines export to common game engines and offline renderers
Judging by the release notes, the jump in version number reflects the change of numbering scheme rather than major changes to the software itself, since the biggest new feature is the reworked export window.
Users can now create custom export presets, and export settings are saved and restored automatically.
There are also readymade presets for a range of game engines and offline renderers, including Unreal Engine, Unity, Arnold, Blender's Cycles and Eevee render engines, Corona Renderer, Redshift and V-Ray.
Less predictably, there are also presets for architectural rendering software Enscape, and augmented reality authoring tools Lens Studio and Spark AR Studio.
Other changes: support for config files for custom installations
For studios with multiple seats of the software, the other significant change in Substance Alchemist 2.1 is the option to use a config file to install the software in a custom configuration.
Other than that, there are a few workflow improvements, plus updates to two of the existing filters and the Atlas Scatter system; and nine of the readymade materials have been replaced with newer versions.
You can find a full list of changes via the link below.
Pricing and availability
Substance Alchemist 2.1 is available for 64-bit Windows 7+, CentOS 6.6+ Linux and Mac OS X 10.11+.
The software is only available as part of Adobe's Substance subscriptions, which also provide access to Substance Painter and Substance Designer, plus downloads from online asset library Substance Source.
Indie subscriptions, intended for users with revenue under $100,000/year, cost $19.90/month. Pro subscriptions cost $99.90/month.

Read a full list of features in Substance Alchemist 2.1 in the online changelog
Visit the Substance Alchemist product website
Tags: Adobe, AR, architectural visualization, Arnold, Atlas Scatter, Augmented Reality, Blender, config file, Corona Renderer, custom configuration, Cycles, Eevee, Enscape, export preset, filter, Game Engine, Lens Studio, material authoring, new features, parametric texture, price, Redshift, renderer, scan data, Spark AR Studio, Substance, Substance Alchemist, Substance Alchemist 2.1, Substance Alchemsit 2020.1, system requirements, texture painting, texturing, Unity, Unreal Engine, V-Ray