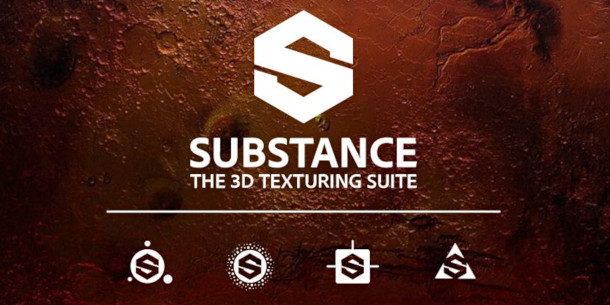 Adobe has changed the licensing for the Substance tools: texturing painting software Substance Painter, material authoring software Substance Designer and new app Substance Alchemist.
When buying via the product website, the three applications are now only available on subscription, although perpetual Indie licences of Substance Painter and Designer remain available via Steam.
Adobe has also now removed the old rent-to-own option for Substance Painter and Substance Designer, although existing subscribers have a further year to exercise their buy-out option.
The change in policy was announced on the Substance forum last month but not, as far as we can see, on the Substance blog or social media channels, so a hat tip to CGPress for spotting the relevant post.
Indie perpetual licences of Substance Painter and Designer still available, but only via Steam
Users have been speculating about licensing changes to the Substance products ever since original developer Allegorithmic was acquired by Adobe at the start of this year.
The new policy is less of a drastic change than some feared at the time: the Substance products have not been incorporated into Adobe's Creative Cloud subscriptions, and perpetual licences remain available for Substance Painter and Designer – albeit only via Steam, and only as the old Indie versions.
Pricing for those Indie versions, intended for artists and studios earning less than $100,000 per year, remains unchanged at $149.99, including one year of updates.
Perpetual Pro licences of both applications are no longer available.
Games texture map generation tool Bitmap2Material also remains available via Steam, although not via the Substance website: links to the old product pages generate 404 errors, though the manual is still online.
Maintenance for perpetual licences to stop after 2021
Users with existing perpetual licences of Substance Painter and Designer will be able to renew their maintenance contracts until 31 October 2020.
Maintenance pricing remains unchanged, at $75/year for Indie licences and $490/year for Pro licences.
Renewing on the final day that maintenance is available will give users with perpetual licences access to updates until October 2021.
After that, the only way to get access to new versions will be to change to a subscription, or to keep rebuying the Steam Indie version annually, which effectively doubles the cost.
In its forum thread, Adobe has confirmed that the Steam editions "will be updated at the same pace" as the subscription versions, although it declined to comment on how long perpetual licences will remain available on Steam, commenting that this was "not something we can answer".
Adobe has also now removed the old rent to own option, which enabled users to make monthly payments, then convert to a perpetual licence of the software after a certain number had been made.
Users currently on rent to own have until 31 October 2020 to convert to a perpetual licence.
Subscriptions now officially include Substance Alchemist rather than Bitmap2Material
For subscribers, pricing remains largely unchanged: monthly subscriptions still cost $19.90/month for Indie users or $99.90/month for a Pro users.
The cost of an annual subscription falls slightly for Indie users, from $239/year to $219/year, and rises slightly for Pro users, from $990/year to $999/year.
The bigger change is that Bitmap2Material is no longer part of new subscriptions. Instead, users will get access to next-gen material authoring tool Substance Alchemist as part of their subscription fee.
Subscribers previously had access to beta versions of the software, but Adobe has confirmed that this will still apply after the first stable release, Substance Alchemist 2019.1, ships later today.
Substance subscriptions also remain separate to Adobe's Creative Cloud All Apps plans.

Read Adobe's FAQs for its new licensing policy for the Substance tools
Visit the Substance tools product website
(Already updated to reflect the new licensing conditions)
Tags: Adobe, Allegorithmic, Bitmap2Material, licensing, perpetual licence, price, rent to own, Steam, subscription, Substance Alchemist, Substance Alchemist 1.0, Substance Alchemist 2019.1, Substance Designer, Substance Painter