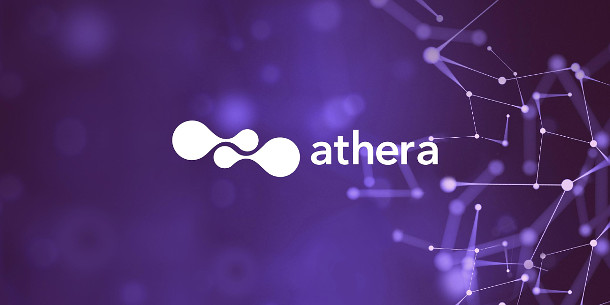 Foundry has unveiled Athera, a new cloud-based platform intended to make it possible to run a visual effects studio using nothing more than a laptop and a standard web browser.
The platform, previously known as Elara during its beta period, provides an all-in-one cloud production service, including virtual workstations, online software rental, rendering, collaboration tools and analytics.
Its new name – along with the news that Foundry has chosen Google Cloud Platform as its underlying cloud service provider – was announced at NAB 2018, with registration for trial accounts beginning on 26 April.
Aimed at freelancers and indies, not larger studios
We covered Elara when Foundry announced it at NAB 2017. From the sound of things, the fundamentals haven't changed since then, so check out our original story for an overview of how Athera will operate.
However, we did have a chance to chat to Foundry senior product manager Mathieu Mazerolle yesterday, who provided a few more interesting details about the service.
One is the likely user base: while the beta program included companies of a range of sizes, Foundry is primarily targeting freelancers and small studios with the commercial release.
For such artists, one of the key benefits of Athera will be that you don't need to buy or maintain expensive hardware to run a business: everything runs in the cloud, with only the display being streamed to the user.
According to Mazerolle, the beta included "lots of [people working on] laptops", both as their primary hardware, and to do work on set during live shoots or to do touch-up work at clients' offices.
Athera will even work on a Chromebook – as Mazerolle put it: "If you've got a web browser, you can do VFX".
If you stream Neftlix in 4K, you can do visual effects online
While latency – the lag between a mouse click and the result appearing on screen – is often cited as a stumbling block for remote services, Mazerolle says that the issue was never raised by beta testers.
Athera should work fine over most modern broadband connections – if you can stream Netflix in 4K, your connection is fast enough, apparently – with a bigger issue being proximity to a data center.
On launch, Athera will be available from data centers located on the West Coast of the US and Western Europe, with the East Coast and "maybe" Eastern Europe, South America and Australia to follow.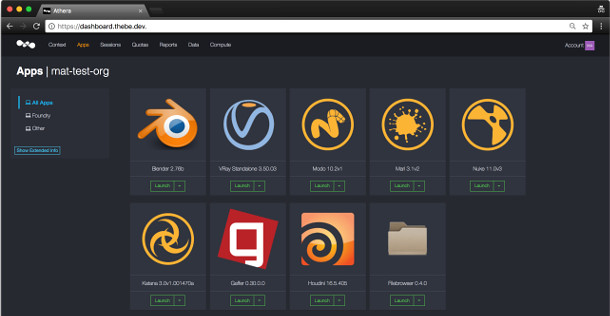 Software available through Athera will include Houdini, V-Ray and Blender, on top of Foundry's own products. Shotgun support will follow shortly after launch, but there is no timescale for Maya or 3ds Max.

Support for Houdini, V-Ray and Blender – but not Maya or 3ds Max
While Foundry will be announcing pricing for Athera nearer to launch, Mazerolle did reveal that Foundry would initially offer a single 'entitlement' – a monthly subscription plan, effectively – with more to follow.
That will give a single user up to 300 hours' access to a virtual workstation and the software running on it, with rendering charged on a per-minute-per-node basis.
As for the software available, Athera users will initially have a choice of Foundry's own products – including the Nuke family, Modo, Mari and Katana – plus Houdini, V-Ray and Blender.
Developers of plugins and other tools can make them available via Athera through a system Mazerolle describes as being analogous to an online marketplace, including the power to fix their own prices.
Foundry aims to add support for popular production tracking system Shotgun shortly after launch, but there is no timescale for other Autodesk tools.
According to Mazerolle, Foundry worked with Autodesk "a little bit" during development, but the firm ultimately declined to continue with the beta.
"There was a lot of desire [for Autodesk products among the beta users], especially for Maya," he said. "But Autodesk was not as enthusiastic as we'd hoped."
Pricing and availability
Athera is due for "imminent release" with potential users able to request a trial from 26 April 2018. Foundry says that it will announce pricing nearer the time.

Read Foundry's official launch announcement for Athera
Register to be notified when Athera goes live
Tags: 3ds max, analytics, Athera, autodesk, Blender, browser based, cloud-based, collaboration, connection speed, Elara, Foundry, Houdini, Katana, latency, Mari, Maya, modo, nuke, online, pipeline in a box, price, release date, shot review, Shotgun, software as a service, studio in a box, V-Ray, vfx, virtual workstation, visual effects