Originally posted on 2 November 2018. Scroll down for news of the commercial release.
Reallusion has announced that it is integrating PopcornFX, Persistant Studios' particle effects technology, with iClone, its real-time 3D animation software.
The resulting plugin, which seems to be called 'PopcornFX iClone Particle Plug-in', will ship in December.
The new PopcornFX plugin is the second major iClone add-on announced this month, following the release of markerless mocap system iClone Faceware Facial Mocap suite at the start of October.
So what is PopcornFX?
Originally developed as part of an in-house game engine, Persistant Studios' – and yes, it really is spelled like that – real-time particle technology has been commercially available since 2010.
Initially middleware for PlayStation 3 and Xbox 360, PopcornFX is now also available as a free particle editor plus commercial plugins for the Unity and Unreal Engine 4 game engines.
Users include Sony Interactive Entertainment's London Studio, on titles including PlayStation VR Worlds.
The technology also forms the basis of the particle brushes used in Substance Painter, Allegorithmic's games-industry-standard texture-painting software.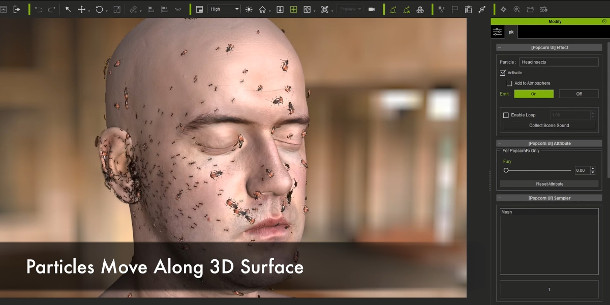 PopcornFX particle systems will be able to interact with 3D geometry inside iClone, with support for iClone's native dynamics systems, making it possible to create effects like the one above.
Integration of PopcornFX particles with iClone's physics, lighting and keyframe animation systems
The new Reallusion plugin will enable users to load particle systems created in the PopcornFX editor into iClone, where their parameters can be keyframe-edited.
The system supports a range of 3D particle types, including instanced meshes; particle ribbons, for creating trail effects; and billboards, for using 2D textures or sprites as particle sources.
Particle systems will be able to interact with geometry inside iClone, enabling users to use 3D meshes as particle emitters, or for particles to be constrained to the surface of a mesh.
They will interact with iClone's PhysX-based dynamics system, enabling particles to bounce off or accumulate on surfaces, or to displace objects.
Particles can also be emitted from cloth meshes generated by iClone's Soft Cloth system.
In addition, they will be able to affect scene lighting dynamically, with support for HDR-based effects, including bloom, exposure controls, and tonemapping.
Expect a commercial release in December, following two work-in-progress builds
The integration work is scheduled to take place via two work-in-progress builds – you can see the demo video for the first above – before the plugin and content pack are officially released in December.
You can find a timeline for the project, plus more technical details, on Reallusion's website.

Updated: The PopcornFX iClone Particle Plug-in is now shipping. It comes with five integrated 'Super Tools', enabling users to create particle effects directly within iClone itself.
As well as the software, Reallusion has released PopcornFX Library 40: an add-on pack of 40 preset effects.
Pricing and availability
The PopcornFX iClone Particle Plug-in is available for iClone 7.2 only (it specifically requires the 7.2 update: 7.0 won't work) running on 64-bit Windows 7 and above.
The base plugin costs $179 – midway between the pricing of the non-commercial and studio versions of Persistant Studios' own Unity and UE4 plugins.
The PopcornFX Library 40 add-on costs $69, although at the time of posting, you can buy it together with the base plugin at a discounted bundle price of $199.
The PopcornFX editor is a free download for Windows only.

Read more about the PopcornFX iClone Particle Plug-in on Reallusion's website
Read more about the PopcornFX editor in Persistant Studios' wiki
Tags: add-on, animation, download, dynamic lighting, dynamics, Featured Articles, free, global illumination, HDR, iClone, particle authoring, particle effects, particle system, PhysX, plugin, PopcornFX, PopcornFX editor, PopcornFX iClone Particle Plug-in, PopcornFX Library 40, price, real time, Reallusion, release date, Soft Cloth, Substance Painter, Unity, Unreal Engine