Tuesday, June 6th, 2023

Posted by Jim Thacker
Apple unveils 2023 Mac Pro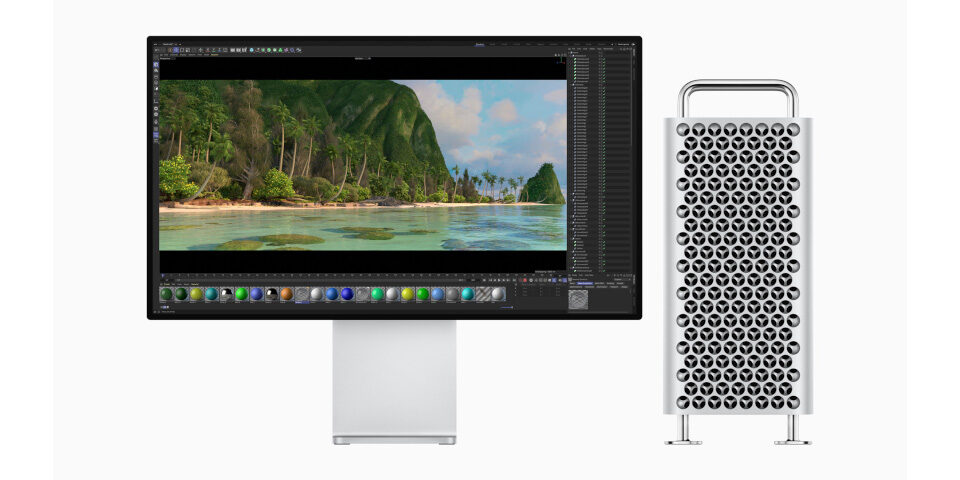 Apple has unveiled its 2023 Mac Pro, the first major update to its flagship CG workstation in three years.
Powered by Apple's new M2 Ultra processor, the new model will be the first Apple Silicon Mac Pro, meaning that Apple's entire desktop and laptop product line now uses its own procesors.
The new model was announced at this week's WWWDC23 conference alongside the 2023 Mac Studio, which also uses M2 Ultra and M2 Max processors. Both new models are due to ship next week.
Retains the 2019 'cheese grater' chassis design
Despite the launch of the less expensive Mac Studio in 2022, the Mac Pro remains Apple's flagship desktop workstation for professional CG work.
The latest update retains the 'cheese grater' design to which Apple returned in 2019 in a revamp intended to address user criticism of the lack of upgradability of its 2013 'trash can' design.
Limited choice of processor, but still eight PCIe expansion slots and more Thunderbolt ports
Whereas the 2019 version offered a choice of Intel CPUs and AMD GPUs, the new Apple Silicon model has only one: Apple's new M2 Ultra processor.
It features 24 CPU cores and either 60 or 76 GPU cores, and supports up to 192GB of unified memory, shared between CPU and GPU, with a bandwidth of 800GB/s.
Internal storage is limited to a single SSD, albeit with up to 8TB capacity.
The eight PCIe slots introduced in the 2019 design have been retained, but updated from Gen 3 to Gen 4, and are now intended for "audio and video IO, networking and storage".
There was no mention in Apple's launch presentation of the use of PCIe slots for GPUs – a key feature of the 2019 design – so presumably, you're limited to the GPU cores in the M2 Ultra.
The functionality of the 2019 design's Afterburner card – a $2,000 add-on for accelerating video playback – has also been taken over by the M2 Ultra's internal media engine.
Connectivity has been expanded from four Thunderbolt 3 to eight Thunderbolt 4 ports, with the new Mac Pro supporting up to eight 4K displays or three 8K displays running at 60Hz.
Performance of M2 Ultra Mac Pro relative to Intel Mac Pro
Application
Task
Speed boost
Base (1)
High-end (2)
After Effects
Applying Boris FX Sapphire effects
4x
1.8x
Final Cut Pro
Rendering 8K video
6.4x
3x
Houdini
Fracturing and RBD simulation
3.3x
3.4x
Maya
Viewport fps (6-million-triangle scene)
4.9x
1.9x
Octane X
3D rendering
7.6x
2.7x
Photoshop
Applying filters
3.2x
3x
Video AI
Upscaling video
6.9x
2.4x
(1) Comparing Mac Pros with 60-GPU-core M2 Ultra and 8-core Xeon CPU/Radeon Pro W5550X GPU
(2) Comparing Mac Pros with 76-GPU-core M2 Ultra and 28-core Xeon CPU/Radeon Pro W6900X GPU

How much faster is the Apple Silicon Mac Pro than the old Intel Mac Pro?
Although the studios namechecked in Apple's launch presentation were audio or video post facilities, the firm's benchmark scores for the new Mac Pro cover a wider range of use cases.
The product website features performance comparisons for CG applications ranging from Photoshop to visual effects and animation staples like Maya and Houdini.
Above, you can see how the figures stack up both for entry-level systems with the base configuration in Apple's online store, and upgraded, high-end systems.
The base systems tested had a 60-GPU-core M2 Ultra, 64GB of RAM and 1TB SSD; and a 3.5GHz 8-core Intel Xeon W-based CPU, AMD Radeon Pro W5500X GPU, 32GB of RAM and 512GB SSD.
The high-end systems had a 76-GPU-core M2 Ultra, 192GB of RAM and 8TB SSD; and a 2.5GHz 28-core Intel Xeon W-based CPU, Radeon Pro W6900X GPU, 384GB RAM, 4TB SSD and Afterburner card.
Increasing native Apple Silicon support among CG applications
The range of CG applications with native Apple Silicon support has also expanded signficantly over the past year, and now includes Maya, Houdini and ZBrush, plus Arnold and Unreal Engine.
You can find our list of CG apps that have announced native Apple Silicon support here.
Still a hefty price tag, particularly for rackmount systems
As long-term Apple watchers will have suspected, the 2023 Mac Pro doesn't come cheap: even the base configuration will set you back $6,999.
However, the hardware upgrades available in the online store – which could take the 2019 model to over $50,000 – now cap out at under $12,500 for a tower system.
You still pay more for a rackmount system – prices start $500 higher than for an equivalently-specced tower – and the optional wheels for the tower chassis still cost an eye-catching $400.
Price and availability
The new Apple Silicon Mac Pros are available for pre-order, and begin shipping from 13 June 2023.
Pricing for a Mac Pro tower equipped with a 24-CPU-core, 60-GPU-core M2 Ultra processor, 64GB of unified memory and a 1TB SSD starts at $6,999.
Pricing for a Mac Pro rack unit equipped with a 24-CPU-core, 60-GPU-core M2 Ultra processor, 64GB of unified memory and a 1TB SSD starts at $7,499.
Find full specifications for the new Mac Pro workstation on Apple's website