Wednesday, March 1st, 2023

Posted by Jim Thacker
Trimble releases SketchUp for iPad 6.2

A recent demo of SketchUp for iPad. Version 6.2 of the iPad edition of the architectural modelling software adds new Boolean modelling tools, customisable shortcut menus, and new options for saving out projects.

Trimble has updated SketchUp for iPad, the iOS edition of its architectural modelling software, also used by entertainment artists to rough out hard-surface forms, particularly for concept art.
SketchUp for iPad 6.2 adds new Boolean modelling tools, customisable shortcut menus for quick access to commonly used tools and commands, and the option to save components of a project as separate files.
The update was released alongside the latest version of the desktop edition, SketchUp 2023.0.
A new edition of SketchUp reimagined for use on tablet devices
First released last year, Sketchfab for iPad reimagines SketchUp for use on a smaller screen.
It includes a number of features designed to speed up workflow when using a stylus rather than a mouse and keyboard, including Autoshape, an AI-trained tool for converting quick sketches into 3D forms.
Other iPad-specific features include Markup mode, which enables users to annotate a SketchUp model; and the option to add photographic textures to a model or view it in augmented reality using the iPad camera.
Users can transfer models to the desktop edition via online collaboration platform Trimble Connect, or export them to other DCC apps in a range of standard 3D formats, including OBJ and USDZ.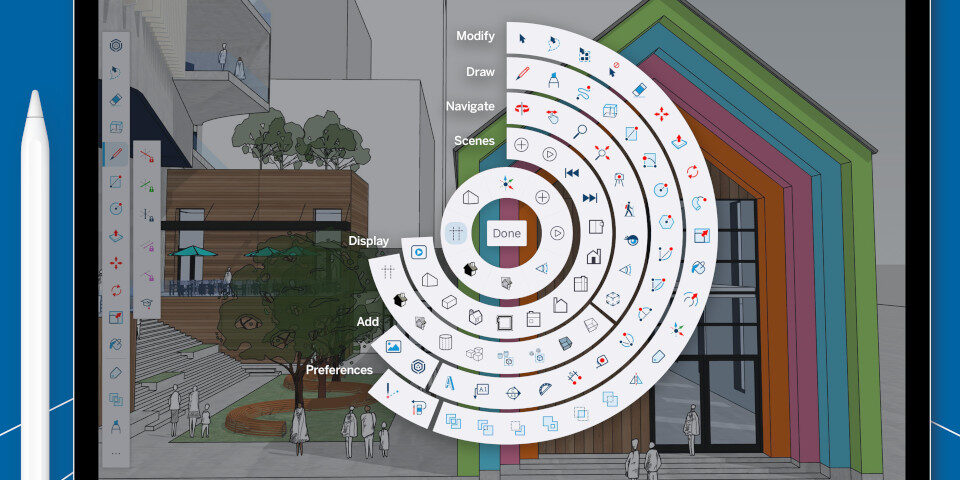 Version 6.2: new customisable shortcut toobars
Key changes in SketchUp for iPad 6.2 include new customisable shortcut toolbars for access to commonly used tools and commands: the image above shows the radial version, but there is also a linear toolbar.
The Tags panel, used to control the visibility of objects in a scene, now supports Tag folders.
Version 6.2: new Boolean modelling tools and Flip Tool
The update also expands the iPad edition's modelling capabilities, adding all of the Solid Tools for Boolean modelling available in the desktop edition.
Users also get the new Flip tool added to the desktop edition in SketchUp 2023.0.
Version 6.2: new save and reload workflow, support for DWG and DXF files
Users can also now save components from a SketchUp project to Trimble Connect or 3D Warehouse as separate files, making it possible for other team members to work on them in parallel.
The updated files can then be reloaded in the original SketchUp project.
It is also now possible to import and export CAD data in DWG and DXF format.
Other new features since the original release
Other changes since the original release include a dark UI mode, a new Presentation Mode for presenting designs to clients, and the option to share projects as links for viewing in SketchUp for Web.
The iPad edition also now includes the Outliner Panel and 3D Text Tool from the desktop edition.
Price and system requirements
SketchUp for iPad is compatible with iPad models running iOS 15+. It is included with all paid SketchUp subscriptions: the $699/year SketchUp Studio, $299/year SketchUp Pro, and $119/year SketchUp Go.

Read an overview of the new features in SketchUp for iPad 6.2 on Trimble's blog
Read a full list of new features in SketchUp for iPad in the online release notes