Thursday, November 16th, 2017

Posted by Jim Thacker
Trimble cans SketchUp Make, launches SketchUp Free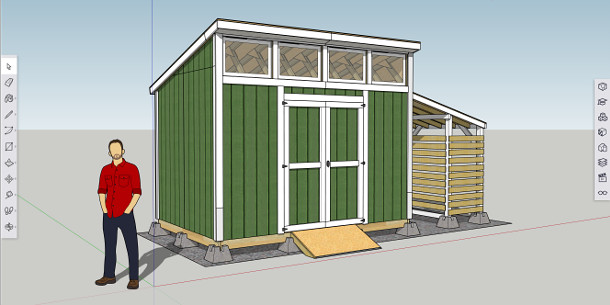 Trimble has launched SketchUp Free, a free browser-based version of its architectural sketching software intended for non-commercial use, replacing SketchUp Make, the old desktop edition.
The change makes it possible to use SketchUp's core tools from a wider range of devices, although the new Free edition lacks some key features of the Make edition: notably, support for Extensions.
The new platform debuted alongside SketchUp Pro 2018, the latest commercial version of the software.
SketchUp Free vs SketchUp Make: the pros and cons of the change
SketchUp Free, originally known as my.SketchUp when it launched in beta last year, enables artists to use SketchUp's core modelling and rendering tools from a web browser.
The UI has been streamlined for online use, but most keyboard shortcuts carry over from the desktop.
Once created, models can be downloaded in STL format or SketchUp's native SKP format, or saved to a linked account on Trimble Connect, Trimble's online collaboration platform.
As with SketchUp Make, you don't get the extra modules that come with the paid-for Pro edition of the software: stroke-editing system StyleBuilder and document-creation tool LayOut.
However, unlike SketchUp Make, it isn't possible to create or edit materials in SketchUp Free, or to use Extensions, the Ruby scripts that many SketchUp users rely on for additional functionality.
On the up side, being browser-based, SketchUp Make is continuously updated; and will run on OSs that SketchUp Make wouldn't, including Linux and Chrome OS – although most current Chromebooks fall below the recommended system specs.
Pricing and availability
SketchUp Free is available here. To use it, Trimble recommends the Chrome 59+ or Firefox 52+ browsers, although it may work with Safari or Edge.
To save models to the cloud, you will need an account at Trimble Connect – the free account gives you 10GB of online storage – although you can save files to your desktop without logging in.
The last version of SketchUp Make, SketchUp Make 2017, is still available to download for Windows 7+ and Mac OS X 10.10+, although the edition is no longer being actively developed.

Read Trimble's launch announcement for SketchUp Free
View a feature comparison table for SketchUp Free and SketchUp Pro
Find more restrictions of the Free edition listed on the Getting Started webpage