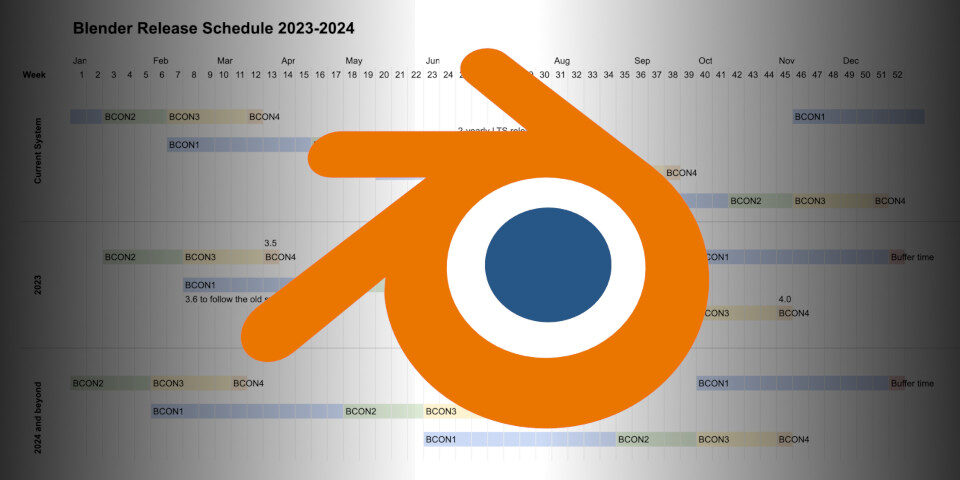 The Blender Foundation has announced a new release schedule for Blender.
The open-source 3D software will move from four to three releases per year, officially starting with Blender 4.0 this November, to leave more time to add new features to each release.
Move from four to three updates per year to ease pressure on developers and TDs
Blender moved to its current release schedule three years ago, going from the two-decade 2.x release series to a more conventional two-year release cycle, with annual Long-Term Support (LTS) releases.
The new schedule isn't nearly as big a change, retaining the two-year cycle and annual LTS releases for larger studios, but switching from four to three releases per year.
The extra time allocated to each release will extend bcon1 – the phase of the cycle in which new features are merged into the release, as opposed to fixing and stabilising those that have already been added.
As well as resulting in more substantial individual releases, Blender Foundation argues that the new schedule will "ease the maintenance of tools by studio TDs and add-on developers".
Officially begins with Blender 4.0, though only three releases are scheduled this year
The new schedule officially begins with Blender 4.0, so Blender 3.5, currently in beta, and scheduled for a stable release next month, is largely unaffected, though the release is now due at the end of March.
However, there will only be three releases this year, since the proposed 3.7 update is now being skipped.
Blender 3.6, currently in alpha, will become the next LTS release, and will move back from June to July 2023, with Blender 4.0 due in November 2023. The 4.x cycle will then run through 2024 and 2025.
System requirements
The current stable release, Blender 3.4, is compatible with Windows 8.1+, Linux and macOS 10.13+.
Read more about the new Blender 4.x release schedule on the Blender Developer blog
Tags: 3D modeling, animation, Blender, Blender 3.5, Blender 3.6, Blender 3.7, Blender 4.0, Blender 4.x, Blender Foundation, game development, long-term support, LTS, motion graphics, new features, new release schedule, open source, release date, release schedule, rendering, roadmap, system requirements, vfx, visual effects, visualization