Adobe has released Photoshop 24.0, the latest version of its image-editing and digital painting software.
The update adds a new delete and fill feature, making it possible to remove unwanted objects from images simply by clicking on them, an AI-powered photo restoration filter, and new collaboration options.
In addition, Adobe's Substance Photoshop plugin is now bundled with the software, making it possible to import materials in Substance .sbdar format into Photoshop, and use them as pattern layers or brushes.
The update was one of several to Adobe's Creative Cloud tools announced at Adobe MAX 2022, including After Effects 23.0 and Character Animator 23.0, along with the official release of Substance 3D Modeler.
Remove objects from photos simply by clicking on them with Delete and Fill Selection
The most eye-catching new feature in Photoshop 24.0 is Delete and Fill Selection.
It combines the functionality of two existing features – the AI-powered Object Selection tool introduced in Photoshop 23.0, and Content-Aware Fill – into a single one-click object removal system.
Users simply click on an object within an image to select it, then hit [Shift] + [Delete] to have Photoshop remove it and fill the gap with pixels sampled from the surrouding areas of the image.
The Object Selection tool itself has been extended, and can now auto-select a wider range of content in images, including the sky, ground, water, plants and buildings.
New options for sharing documents with collaborators
There are also two new collaboration features: Invite to edit and Share for review.
The former sends collaborators email invitations to edit a cloud document; the latter, which is still officially in beta, generates a web version of a local document for sharing.
Phtoshop's experimental Content Credentials system, intended to prevent unauthorised tampering with images, has been expanded to support multi-user workflows. You can find more details in this blog post.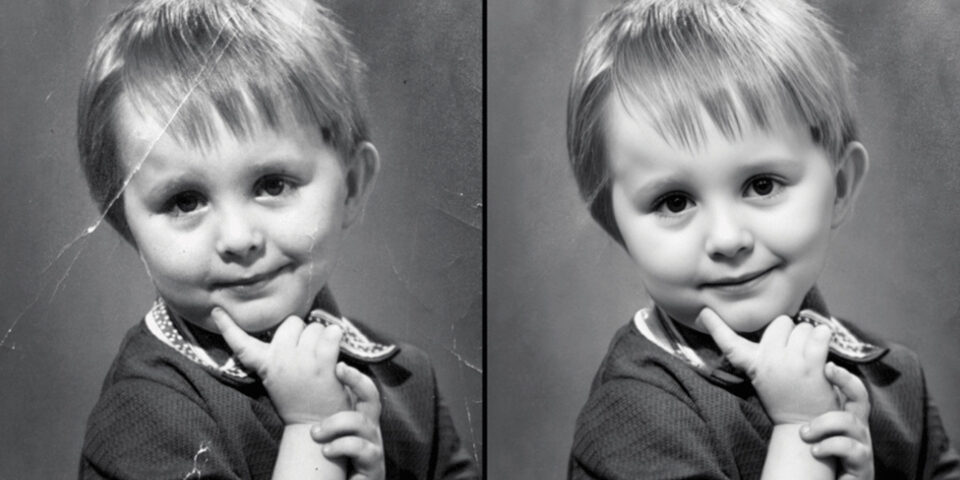 Other new features: new Photo Restoration filter, support for emoji glyphs
The update also adds a new Neural Filter for automatically removing artefacts like creases or scratches from scanned archive photos, the self-explanatorily titled Photo Restoration filter.
Other changes include support for emoji glyphs, with emojis now displayed as vector rather than bitmap images, improving scaling; and a new compatibility mode to improve stability on pre-2016 GPUs.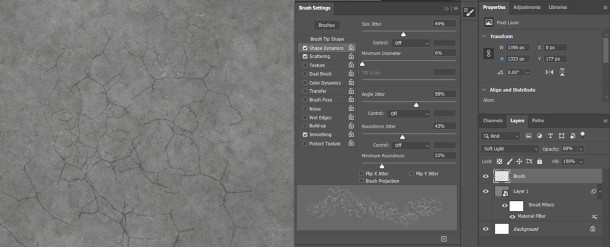 Substance Photoshop plugin now bundled with the software
Outside the core application, Adobe is now bundling its Substance Photoshop plugin with Photoshop.
First released in beta earlier this year, the plugin makes it possible to import materials in the Substance 3D applications' .sbsar format and edit their parameters inside Photoshop.
Since Adobe recently removed Photoshop's 3D features, the materials don't work quite as they do in 3D applications, being available as 2D pattern layers, or as brush presets.
You can find more details of how the Substance Photoshp plugin works in this story.
Pricing and system requirements
Photoshop 24.0 is available for Windows 10+ and macOS 11.0+ on a rental-only basis. In the online documentation, the update is also referred to as the October 2022 release.
Photography subscription plans, which include access to Photoshop and Lightroom, start at $119.88/year. Single-app Photoshop subscriptions cost $31.49/month or $239.88/year.

Read a full list of new features in Photoshop 24.0 in the online documentation
Tags: 3D features, Adobe, Adobe MAX 2022, AI-based, AI-trained, automatic object masking, cloud document, collaboration, Concept Art, Content Authenticity Initiative, Content Credentials, create web version of Photoshop document, Delete and Fill Selection, digital painting, emoji glyph, illustration, image editing, invite to edit, Matte Painting, Neural Filters, new features, object removal, object selection, October 2022, Photo Restoration filter, Photoshop, Photoshop 2023, Photoshop 24.0, plugin, price, Share for review, Substance Photoshop plugin, system requirements, texturing, Unified Text Engine, vector emoji