Big news: #Photoshop (beta version) now supports Substance files, & it comes with parameters, but also lighting configuration!

Can't wait to see how you will take advantage of the Substance materials & filters within Photoshop!#graphicdesign #graphicdesigner #digitalart #art pic.twitter.com/TpwS8PZH0k

— Adobe Substance 3D (@Substance3D) May 13, 2022

Originally posted on 16 May 2022. Scroll down for more details of the Substance Photoshop plugin.
Adobe has added native support for Substance files to the latest beta build of Photoshop.
The change should enable users to import procedural materials in .sbsar format, such as those from Adobe's Substance 3D Assets library, and adjust their properties inside the image-editing software.
Support for Substance materials and lighting configuration inside Photoshop
According to posts on the firm's Substance 3D social media accounts, the beta version of the software "now supports Substance files, & it comes with parameters, but also lighting configuration!"
The news is unexpected, given that last year, Adobe discontinued Photoshop's 3D features, which included import of 3D files, advising users interested in 3D to check out the Substance 3D tools instead.
According to this tweet from Adobe senior product manager Jeanette Matthews, the latest changes make it possible to "use the Substance files on any 2D layer as a 'fill'".
"It's really useful for any kind of compositing and design work in 2D!"
Other than that, we don't currently have any more information, but if you have an active Creative Cloud subscription, you should be able to download the latest beta build, and test the functionality for yourself.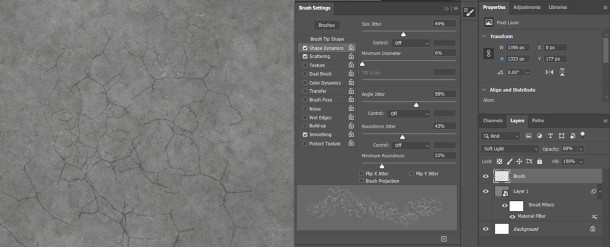 Updated 15 June 2022: Support for Substance materials inside Photoshop is being provided by a new Substance Photoshop plugin bundled with the software.
The online documentation for the plugin shows its UI and provides more details on workflow.
As well as editing material parameters inside Photoshop, users can change the direction of their lighting, the height of the light source relative to the material surface, and light colour and exposure.
Substance material layers work with Photoshop's standard layer blending modes and material masks.
As well as pixel layers, it is possible to add Substance materials to Smart Objects, which makes it possible to perform non-destructive transforms on them.
It is also possible to use Substance materials as brush presets.
Pricing, system requirements and availablity
Beta builds of Photoshop are available to users with active Creative Cloud subscriptions. In the past, it has taken up to six months for beta features to make their way into stable releases of Adobe software.
The current stable release, Photoshop 23.4, is available for Windows 10 and macOS 10.15+.
Photography subscription plans, which include access to Photoshop, start at $119.88/year. Single-app Photoshop subscriptions cost $31.49/month or $239.88/year.
Read the online documentation for the new Substance Photoshop plugin
Tags: 2D layer, Adobe, beta, compositing, Concept Art, concept design, edit Substance material in Photohop, illustration, image editing, import Substance material into Photoshop, layer blending, layer mask, lighting, online documentation, Photoshop, Photoshop 23.4, plugin, post processing, price, release date, SBSAR, Smart Object, Substance 3D Designer, Substance 3D for Photoshop, Substance material, Substance Photoshop, system requirements, use Substance material as brush in Photoshop, visualization