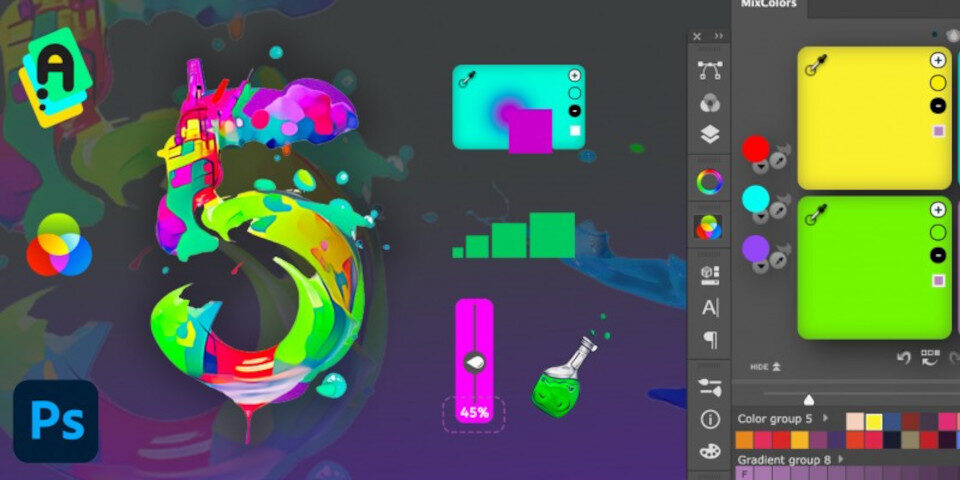 Anastasiy Safari has released MixColors 5.0, the latest version of his physically accurate colour mixer plugin for Photoshop, adding support for multiple simultaneous colour mixing areas.
Mix colours as if they were real oil, acrylic or watercolour paints
First released in 2014, MixColors lets artists mix colours as if they were real oil, acrylic or watercolour paints.
Users can either drag colour swatches onto the mixing palette or sample them from an image using the Eyedropper tool, then use a slider to control the mixing process.
MixColors 5.0: new Multimix Mode and workflow improvements
MixColors 5.0 fulfills a common user request for multiple mixing fields within the UI, with the new Multimix Mode dividing the mixing area into two or four, with the sub-areas arranged vertically, horizontally or in a grid.
Mixing fields also get new UI buttons for adding black, white or a specified colour to the mix.
Other changes include the option to scale colour swatches arbitrarily, to create swatch groups from multi-selected swatches, and the option to drag and drop colours from Color History to the mixing fields.
In addition, the underlying colour mixing engine has been updated, and the slider controls for colour mix strength now display percentage values, making it possible to adjust colour mixes more precisely
Pricing and availability
MixColors 5.0 is available for Photoshop CS5 and above on Windows and macOS. It costs $19.

Read a full list of new features in MixColors 5.0 on the product blog
Read more about MixColors on Anastasiy's website
Tags: A Material Point Method of Snow Simulation, acrylic, Anastasiy, Anastasiy Safari, color history, color mixing, color palette, color swatch, Concept Art, illustration, MixColors, MixColors 5.0, MultiMix Mode, new features, oil paint, paint mixing, Photoshop, plugin, price, system requirements, watercolor