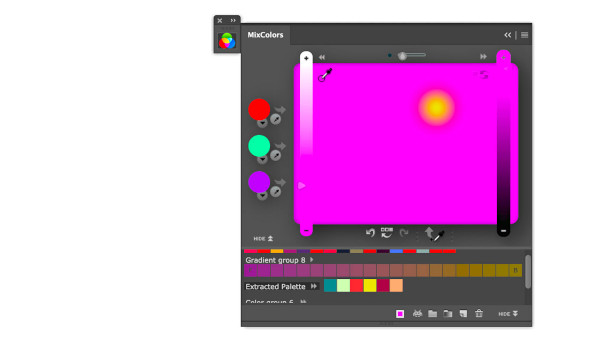 Anastasiy Safari has released MixColors 4.0, the latest version of his physically accurate colour mixer plugin for Photoshop, adding options to extract colour palettes from images, and to auto-name colour swatches.
Mix colours as if they were real oil, acrylic or watercolour paints
First released in 2014, MixColors lets artists mix colours as if they were real oil, acrylic or watercolour paints.
Users can either drag colour swatches onto the mixing palette or sample them from an image using the Eyedropper tool, then use a slider to control the mixing process.
Automatically assign human-readable names to colour swatches
MixColors 4.0 is the first major update to the plugin in three years, and brings with it a new interface design and some significant new features.
UI and UX changes include a new slider to fine tune the strength of a colour mix in real time. It works throughout the interface, including the main colour mixers and with colour swatches.
In addition, MixColors now automatically assigns human-readable names – using X11 colour naming – to colour swatches. It is also possible to assign hotkeys to individual swatches.
Extract the entire colour palette from a source image with a single click
New features include the option to extract the entire colour palette from an image with a single click, rather than just sampling an individual colour.
Similar functionality is available in MixColors' sister plugin, MagicTints, which automaticallly transfers a colour scheme from one image to another.
MixColors itself also gets the option to group swatches into hotkey-able Collections.
Other changes include the option to mix the colours of vector shapes, automatic saving and transfer of colour history between work sessions, and new Spanish and Chinese language editions.
Pricing and availability
MixColors 4.0 is available for Photoshop CS3 and above on Windows and macOS. It costs $19.

Read a full list of new features in MixColors 4.0 in the online changelog
Read more about MixColors on Anastasiy's website
Tags: acrylic, Anastasiy, Anastasiy Safari, collection, color history, color mixing, color palette, color swatch, Concept Art, hotkey, human readable, illustration, keyboard shortcut, MixColors, MixColors 4.0, name color swatch automatically, new features, oil paint, paint mixing, Photoshop, physically based, plugin, price, system requirements, vector shape, watercolor