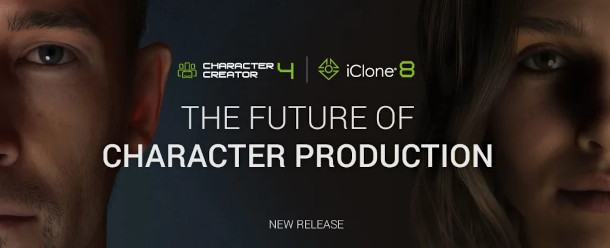 Reallusion's release of iClone 8 and Character Creator 4 provides artists with an array of accessible tools for generating and animating 3D humans and humanoid characters. In this sponsored article, the firm explains how it aims to provide a unified – and dramatically simplified – solution for character set-up and animation.

Reallusion continues to evolve its dynamic, user-friendly character animation platform with the simultaneous release of iClone 8 (iC8) and Character Creator 4 (CC4). The new versions of the software provide artists with accessible tools for creating and animating scalable digital humans and humanoids.
As part of this evolution, both Character Creator and iClone support a wider range of imported models, enabling users, from individual artists to large studios, to apply their powerful toolsets to any 3D character.
As well as gaining a plethora of professional animation editing features, iClone 8 innovates in animation design with a next-level 'Play2Animate' philosophy. Its new Motion Director system revolutionises character animation with a gameplay-like control interface, making it possible to use gamepads, hardware peripherals and keyboards to control characters and cameras, allowing for ultimate interactivity.
Together, CC4 and iC8 open the door for storytellers and interactive designers to take any character or animation to their platform of choice, from AR, VR and the metaverse, to games, films and new media.
Seamless integrated workflow
3DXchange, Reallusion's toolset for importing and exporting 3D models and animation data, is now completely integrated into iClone 8 and Character Creator 4. iC8 and CC4 feature drag-and-drop import, instant or custom retargeting of animation, and a smart content management system for fluid workflow.
New Smart Content Manager
Users can download free resources or purchased assets within the content manager, with shared folder design making them accessible from both iC8 and CC4. It supports keyword search and custom tagging, content workgroups for sharing assets among teams, and central server access or multiple drive storage.
3DXchange seamlessly merged into Character Creator and iClone
Users can import characters, motion, props and more by dragging and dropping FBX or OBJ files, and can export to all platforms straight from CC4 or iC8.
Total integration of CC4 character updates between Character Creator and iClone
More tools integrated into iClone 8
The old Curve Editor and Motion LIVE add-ons are now standard features.
Character Creator 4: elevate character designs
CC4 makes the animation set-up tools Character Creator provides for native characters available to a wider range of imported characters. The ability to turn any rigged biped into a CC4 character is a huge change, enabling artists to take advantage of the real-time animation tools in iClone 8 to bring their creations to life.
Extended character realism
The native CC4 character has itself been upgraded, with 140 blendshapes derived from 4D scanning, ready for use facial puppeteering, motion capture animation, or lip-sync using iClone's AccuLips system. Artists can create their own custom facial expression blendshape or morph set-ups from the Expression Profile Editor.
Enliven any character rig
Your creativity is no longer limited by the base CC character. Any rigged biped model can now be imported, characterised and given a facial rig inside Character Creator. Imported characters can be animated and lip-synced in iClone, and can be optimised for crowd simulation, or for AR, VR and the metaverse.
Auto import popular character types
Character Creator can auto-detect the imported character type when dragging in FBX files created in popular 3D applications. Supported character standards include Maya's HumanIK, 3ds Max's Biped, Blender's meta-rigs, Mixamo characters and motions, and Daz 3D's G3/G8 characters and motions.
Showcase full-motion characters
CC4's new animation features let character designers see characters in motion inside Character Creator, helping to check imported character rigs, adjust cloth or skin weights, and test facial expressions and lip-sync. Artists can also use the new turntable system to review character art in real time, or render it as video.
iClone 8: dramatically simplify character animation
iClone 8 delivers a balance between traditional editing controls and a new, more intuitive approach to animation. Reallusion's Play2Animate philosophy and Device LIVE features combine the best of both worlds, making it possible to control characters using gamepads, hardware peripherals and assignable hotkeys.
Motion capture and keyframe animation editing have also been refined, with iC8 providing smart controls for foot and hand placement and reach-target locking, making it possible to animate precise interactions between a character and its surroundings, props or other characters.
Professional motion controls
iClone provides powerful innovations in motion editing, while keeping the process simple and intuitive. Key features include:
Automatic root motion alignment between mocap clips
Smooth bidirectional blending, and directional control over motion clips
Optimal HIK Controls for accurate pose-to-pose editing and IK/FK blending
Multiple Motion Layer Editing: a non-destructive workflow for blending motions
A character-centric timeline, with the option to work at body part level, bone level, facial feature level or facial morph level, and an IK/FK blend track
Pro-level curve editing to refine character performances or correct mocap data
Facial animation editing
Whether you're working with ultra-realistic digital doubles or stylised cartoon characters; iClone provides time-saving facial expression editing tools to help you direct your 3D actors' facial performances:
Works with various facial profiles: Traditional, CC4 Basic (60+ blendshapes), CC4 Extended (140+ blendshapes)
Enhanced Face Puppet and Muscle Edit with secondary-level facial feature options
Facial curve editing for facial bones and blendshape animation
Facial-centric timeline track editing down to Feature Level (63 tracks) and Morph Level (60-150 tracks)
AccuLips lip-sync animation works for both standard CC3+ characters and imported humanoid characters with CC4 facial set-ups
Mocap motion correction
Motion capture and keyframe animation editing have been refined in iClone 8:
Footstep and handprint systems provide intuitive control of foot and hand placement
Reach-target locking for precise character interactions with scenes and surroundings, and character-to-object and or character-to-character animation
Motion key sampling, smooth filter, key reduction, and curve editing
Motion Director
The Motion Director system makes it possible to use gameplay controls to drive characters, with motion matching technology providing smooth speed changes and turns, and seamless motion transitions:
Game-like actor control
Steer characters with a regular game controller, mouse-click waypoints, or conventional WASD keys
NPC AI animation
Assign NPCs autonomous idle animations, or set them to walk on paths, in zones, or follow animated objects
Camera switching
Switch between up to nine camera views when steering the actor
Macro recorder and sequencer
Record device input events and replay them in user-defined sequences, or bake them to the timeline
Behavior expansion
Add new behaviors to actors
Custom hotkeys and Device LIVE
iClone 8 makes it possible to direct scenes in real time with live camera switching, triggerable effects, fader sliders, jog dial timeline scrubbing, drone camera navigation and much more.
A range of features can be triggered using Xbox or PlayStation controllers, or Windows-compatible peripherals like SpaceMouse, MIDI faders, Monogram Creative Console, TourBox, and Stream Deck:
Camera switching and navigation
Motion and timeline editing
3D object transformation
Lighting and performance triggers
Almost all functions in iClone can be mapped to custom hotkeys, making it possible for Maya, 3ds Max or Blender users to choose their preferred mouse-and-keyboard conventions for viewport navigation.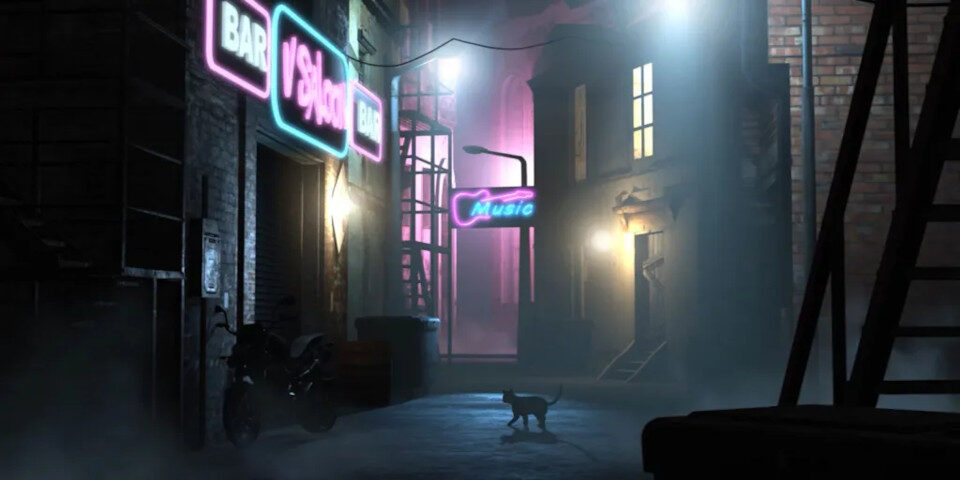 Other new features
Hundreds of other feature requests have been fulfilled in CC4 and iC8. Here are some highlights.
iClone 8
Cinematic real-time visuals – volumetric lights, motion blur, lens flares, auto-exposure, new mirror shader
Flexible frame rates allow frame-accurate timeline editing and video compositing
Enhanced performance and productivity – modular scene management with the option to transform or toggle the visibility of entire groups of objects, material and mesh instancing, project merge
Character Creator 4
Turn skin-bone props into animatable creatures
Prop editing for hierarchical animation set-ups – extract meshes, convert meshes to sub-items, and attach or detach sub-items
Polygon reduction for props, creatures or selected sub-items
A complete character production pipeline
iClone 8 and Character Creator 4 don't just work together seamlessly as a character design and animation platform: they also integrate with other key production tools.
As well as being able to export characters and animations natively in FBX or USD format, users can install add-ons for path-traced rendering in Omniverse, game output and virtual production in Unreal Engine and Unity, round-trip editing with other 3D tools, and for creating next-level metaverse avatars.
You can read more about Reallusion's add-ons and paid content packs for CC4 and iC8 in this blog post.

Learn more about Character Creator 4 on Reallusion's website
Learn more about iClone 8 on Reallusion's website
Tags: Advertorial, AR, Character Animation, character creator, Character Creator 4, character design, character generation, character rigging, game development, iClone, iClone 8, motion capture, new features, Reallusion, sponsored, visual effects, VR