Colorful has launched Colorful, its self-titled browser-based real-time renderer, in free public beta.
The tool, which runs in a standard desktop web browser, enables even non-specialist 3D artists to create photorealistic product visualisations by dragging 3D models into a library of readymade scene templstes.
A 'virtual photography' tool intuitive enough for non-specialist 3D artists to use
Colorful began as an in-house technology at Austrian "virtual photo studio" zerolens, before being relaunched as a consumer service.
It's aimed at the same 'virtual photography' market as Adobe's Substance 3D Stager, and its precursor, Dimension, with target users including designers and photographers with no previous 3D experience.
For more experienced 3D artists, it provides a way to work on the move: as a web-based service, Colorful only requires an internet connection and a laptop, although it doesn't currently support mobile browsers.
Light and render imported glTF models using a photography-like workflow
Users import models into Colorful for rendering in glTF (.glb) format: the online documentation includes guides on how to export suitable assets from 3ds Max, Blender and Substance 3D Stager itself.
Materials have to be set up in the original DCC application: it's possible to change the colour of objects inside Colorful, but you can't currently edit other material properties.
Users then light the scene using either area lights or HDRI-based environment lighting, and adjust the virtual camera by simply clicking in the scene to set a focal point, and using sliders to control blur and exposure.
The scene is automatically saved to a cloud database every five seconds, and renders can be generated in PNG format at resolutions up to 4K.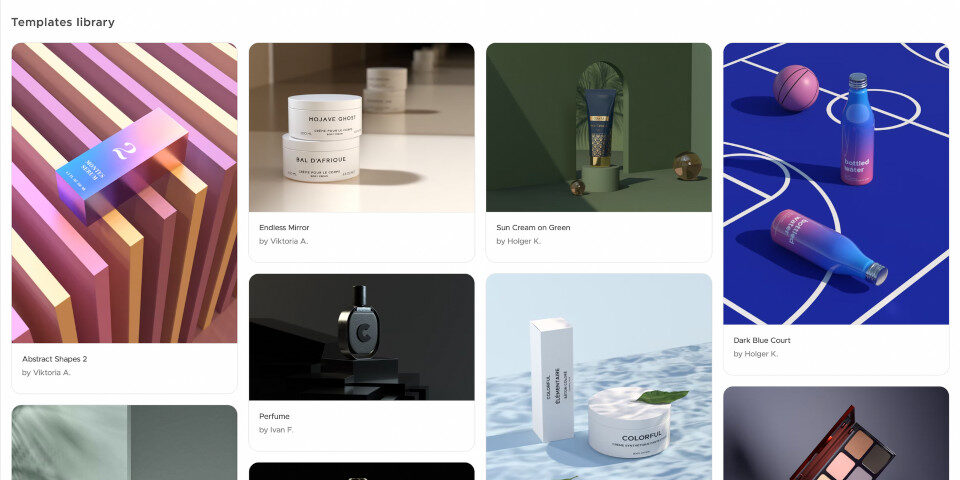 Comes with a library of high-quality readymade background scenes
That's essentially it for the initial beta release: Colorful says that it plans to add collaboration tools and mobile support in future updates.
But while it doesn't have the same breadth of features as offline software, Colorful's real selling point is its library of background templates: readymade 3D scenes into which imported models can be dropped.
There are currently "hundreds" of templates available, from architectural interiors to more stylised backdrops for products including furniture, home electronics, cosmetics and food.
The scenes can be further customised by dragging in assets from a built-in library of over a thousand 3D models, ranging from simple primitives and abstract geometric forms to product models.
Colorful says that it plans to add templates and assets tailored to markets outside e-commerce and product visualisation in future.
Pricing and system requirements
Colorful is available as a free public beta. It should work in most modern desktop browsers – it doesn't currently support mobile devices – but Colorful recommends Chrome.
Once Colorful is out of beta, free acccounts will have a maximum export resolution of 1K. Pro subscriptions, which will raise the maximum resolution to 4K and add sharing permissions, will cost $34/month.
Try Colorful for free on the product website
Tags: 3ds max, Adobe Dimension, arch viz, area light, asset library, Blender, Blur, browser based, Colorful, e-commerce, exposure, Featured Articles, field of view, free, free subscription, GLB, glTF, HDRI, lighting, model library, price, product rendering, public beta, readymade 3D backdrop, readymade 3D scene, real time, real-time rendering, release date, Substance 3D Stager, system requirements, virtual photography, visualization, web-based, zerolens