Orignally posted on 30 May 2019. Scroll down for news of the 2.06 update.
Tools developer 3d-io has released Exr-IO 2.0, the latest version of its free Photoshop plugin for reading and writing multi-layer EXR files, adding Cryptomatte support and the option to export mipmaps.
Load or save multi-layer OpenEXR files, including those with deep pixel data
First released in 2016, Exr-IO enables artists to work with multi-layer OpenEXR files rendered in 3D software in the way that they would in compositing software like Nuke.
The plugin imports or exports all of the channels in a multi-layer EXR file as separate layers, with support for blending modes and opacity.
Alpha channels can be split into separate layers, and added to layers that don't supply their own opacity information, making it much quicker to create selections and masks.
Exr-IO can read multi-part EXR files, and even those containing deep image data – Photoshop doesn't support it, but the plugin merges the data in a way that Photoshop can display.
New in Exr-IO 2.0: support for Crytomatte and mipmap generation
To that, Exr-IO 2.0 adds support for Cryptomatte, Psyop's industry-standard ID matte generation system.
The functionality automatically generates selection masks for rendered objects in a scene, including support for depth of field, motion blur and hair.
In addition, games artists can now use Exr-IO to read and write mipmaps and ripmaps – the latter making it possible to use the plugin to generate non-square textures.
There are also a number of performance improvements, decribed as reducing memory use and improving stability, particularly when working with EXR files with very large numbers of layers.

Updated 15 October 2020: 3d-io has released Exr-IO 2.04. The plugin now automatically assigns layers to layer groups within Photoshop on import, helping to keep files organised.
Since we last wrote about the plugin, 3d-io has released a number of other bugfix and workflow updates. You can find full details on the software's dev blog.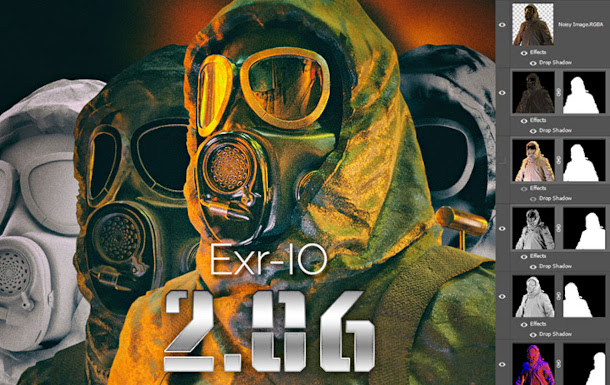 Updated 4 March 2022: 3d-io has released Exr-IO 2.06. The update adds support for Photoshop Smart Objects, file linking, and the option to save greyscale images.
The previous update, Exr-IO 2.05 was a hotfix after a compatibility-breaking update to Photoshop.
Availability
Exr-IO 2.06 is a free download for 32 and 64-bit editions of Photoshop running on Windows only.
Read an overview of the new features in Exr-IO 2.06 on 3d-io's blog
(Includes a download link for the plugin)
Tags: 3d-io, automatic layer grouping, Crytptomatte, deep image, deep pixels, depth of field, download, Exr-IO, EXR-IO 2.0, EXR-IO 2.04, Exr-IO 2.05, Exr-IO 2.06, file linking, free, grayscale, hair, ID matte, layer group, mask, mipmap, motion blur, multi-part EXR, new features, open multi-layer EXR in Photoshop, OpenEXR, Photoshop, plugin, ripmap, Smart Object, system requirements