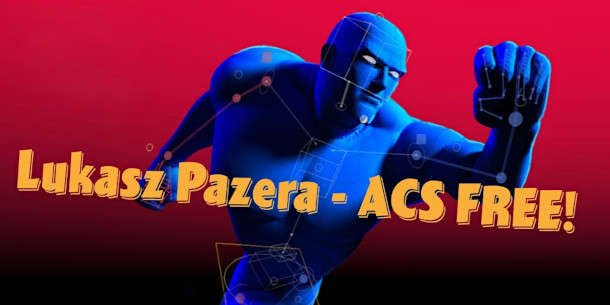 Image taken from Foundry's FriYay Brew O'Clock stream from 15 January 2021, which features ACS.

Originally posted on 19 January 2021. Scroll down for news of the new free edition for Modo Indie.
Artist and developer Lukasz Pazera has released a new free edition of Auto Character Setup, his popular auto-rigging add-on for Modo.
The free edition, which is based on ACS2, streamlines the process of rigging biped characters inside Foundry's 3D software, and baking them for export to other DCC applications.
A staple tool for character rigging and animation in Modo
A staple of many Modo character artists' workflows, ACS occupies a position midway between a conventional third-party add-on and an official Foundry product.
Foundry promoted ACS2 on its YouTube channel on its release in 2015, and has namechecked its successor, ACS3, currently available in early access, as one of the tools set to transform rigging in Modo.
While ACS3 is a completely modular rigging system, making it possible to create creatures with any number of limbs, ACS2 is focused on bipedal characters.
It provides a general purpose biped rig that users can adjust to fit their characters, including the option to remove rig components not being used entirely.
Worflow is nonlinear, making it possible to adjust the proportions of the rig even once animation has started; and has separate contexts for animation, skin weighting and pose sculpting.
The resulting customised rig can be modified using Modo's standard tools, making it possible to share it with artists who don't use ACS2, or baked for export to other DCC applications in FBX format.
Lacks the advanced features of the commercial edition
The new free edition of ACS2 includes all of the base features of the software, but lacks advanced options like squash-and-stretch controls, IK/FK matching and retargeting.
In addition, it lacks the paid edition's post and actions library, and support for Mixamo, Adobe's online character rigging system and stock animation library.
You can see a feature comparison table of the free and commercial editions here.
Pricing and system requirements
The free edition of ACS2 is compatible with Modo 601 SP5 and above, running on Windows and macOS. It is licensed for use in commercial projects: you can read the EULA here.
Updated 9 December 2021: The free version is now compatible with Modo Indie, the lower-price Steam-only edition of Modo, via a separate add-on, also available via Steam.
The paid edition is compatible with Modo 801 SP4 and above, and currently costs $49.
ACS3 is available in early access, and costs $299. Each purchase comes with a separate licence of ACS2.

Download the free edition of ACS2 for Modo
Download the free edition of ACS2 for Modo Indie
Read more about Auto Character Setup on the product website
Tags: ACS2, ACS3, add-on, Auto Character Setup, Auto Character Setup 2, auto rigging, bipdedal character, biped rig, Character Animation, character rigging, commercial use, download, export rig, export rigged character, FBX, feature comparison, Featured Articles, FK, forward kinematics, free, free edition, IK, inverse kinematics, limitations, Lukasz Pazera, Mixamo, modo, Modo Indie, modular rig, plugin, pose library, pose sculpting, price, restrictions, retargeting, skin weighting, squash and stretch, Steam, system requirements