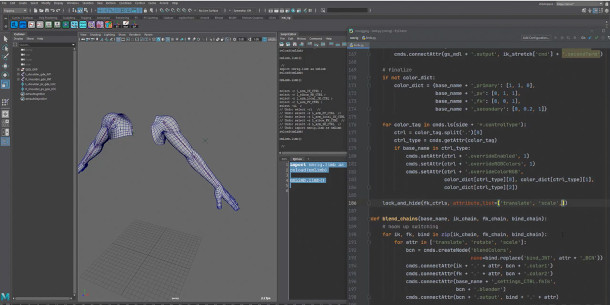 The Gnomon Workshop has released Master Rigging & Python Scripting in Maya, a detailed guide to using scripting to help automate the character rigging process.
The workshop, which comprises over five hours of video training, was recorded by senior DNEG creature TD Nick Miller, and uses free Python IDE PyCharm.
Discover how to automate common rigging tasks in Maya using Python scripting
Automating rigging setups is an essential part of the production pipeline at any major studio, speeding up routine or repetitive tasks to increase artists' productivity.
In the workshop, which is designed to be accessible to artists with no previous experience of either rigging or scripting, Miller explains the fundamentals of the subject.
The training begins with videos on commonly used nodes, deformers and constraints, before building up to step-by-step demonstrations of more complex subjects.
As well as simple helper scripts, viewers will learn how to create a Python tool for creating limb rigs with IK/FK switching, stretchy bones for cartoon-style animation, and a graphical UI.
About the artist
Nick Miller is a creature TD at DNEG, having previously worked for other major visual effects studios, including Method Studios, Digital Domain and Psyop.
He also previously worked for Framestore, where he became the main contributor to the studio's commercials department's rigging package.
Pricing and availability
Master Rigging & Python Scripting in Maya is available via an online subscription to The Gnomon Workshop, providing access to over 300 tutorials. Subscriptions cost $49/month or $490/year.
Read more about Master Rigging & Python Scripting in Maya on The Gnomon Workshop's website

Full disclosure: CG Channel is owned by Gnomon.
Tags: automate repetitive task, automate routine task, beginner's guide, character rigging, constraint, creature rigging, deformer, Gnomon, helper script, IK/FK switching, limb rig, Master Rigging & Python Scripting in Maya, Maya, Nick Miller, node, PyCharm, Python, scripting, starter guide, stretchy bones, technique, The Gnomon Workshop, Training, tutorial, video, workflow, workshop