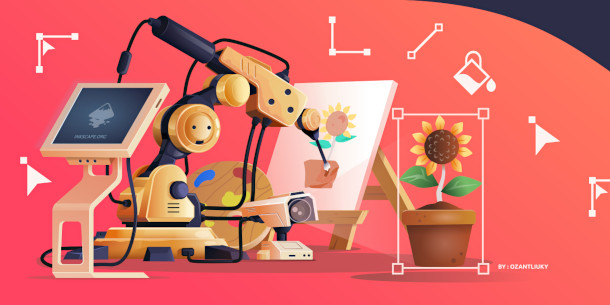 The Inkscape team has released Inkscape 1.1, the first update to the open-source vector design software since last year's milestone 1.0 release.
The update adds some neat new features, including the option to copy and paste parts of vector paths and to slice objects into multiple parts without destroying the original.
There are also a lot of quality-of-life improvements, including a new Command palette for accessing common functions and a reworked system of dockable dialogs, plus the option to export images in bitmap formats.
An increasingly powerful open-source vector drawing package
Inkscape is an open-source vector design package, with a good range of freehand and path-based drawing tools and on-canvas text editing.
It supports layering; includes toolsets for grouping, transforming and simplifying paths; and exports to a range of standard file formats, including PNG, SVG, EPS, PDF and DXF.
Although the software was first released in 2003, the pace of development has increased in recent years, as has Inkscape's uptake among professional artists.
When I wrote about the software for Linux Format magazine in 2016, users included Glenn Melenhorst, Emmy and VES Award-winning VFX supervisor at Iloura, who used it on his children's books.
As well as illustration, the software can be used to create vector designs for use in motion graphics and 3D modelling.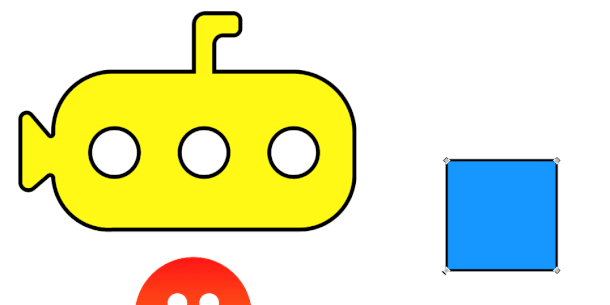 New features for editing vector paths non-destructively
Inkscape 1.1 introduces some neat new features for editing vector designs, including the option to cut, copy and paste parts of a vector path using the Node tool.
The parts can be pasted into existing paths, or as completely new paths, as shown in the image above.
In addition, a new Slice effect makes it possible to split a vector object into parts without destroying the original. Each part is treated as a new object and can be styled independently.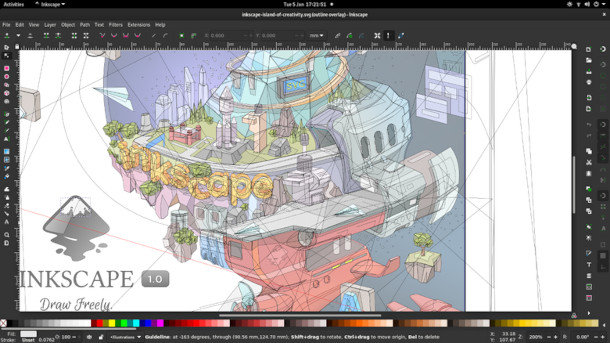 Workflow improvements and new bitmap export formats
There are also a number of significant quality-of-life improvements, including a new Command palette, which makes it possible to access or search for common functions without having to navigate menus.
The dialog docking system has been rewritten, making it possible to dock dialogs on the left of the Inkscape screen as tabs, and preserving dock layout across work sessions.
There is also a new outline overlay display mode, shown above, which displays a muted view of an image behind its component object outlines, making it easier to troubleshoot documents with many layers.
In addition, it is now possible to export images in a wider range of bitmap formats, including JPEG, TIFF, optimised PNG and WebP.
System requirements and release dates
Inkscape 1.1 is available under a GPL licence for 32-bit and 64-bit Windows 7+, Linux and macOS 10.11-10.15.

Read an overview of the new features in Inkscape 1.1 on the Inkscape blog
Read a full list of new features in Inkscape 1.1 in the online release notes
Tags: 3D modeling, bitmap export, Command palette, copy and paste part of a vector path, cut vector object into parts, dockable dialog, download, DXF, EPS, free, GPL licence, illustration, Inkscape, Inkscape 1.0, Inkscape 1.1, JPEG, motion graphics, new features, open source, outline overlay display, PDF, PNG, Slice effect, SVG, system requirements, TIFF, vector art, vector design, vector editing, WebP