The Inkscape team has released Inkscape 1.2, the latest version of the open-source vector design tool.
The update adds support for multi-page documents and batch export, a new Tiling effect for creating repeating patterns, and streamlines workflow for layers, object alignment and editing colour gradients.
An increasingly powerful open-source vector drawing package
Inkscape is an open-source vector design app, with a good range of freehand and path-based drawing tools.
It has a layer system; includes toolsets for grouping, transforming and simplifying paths; supports on-canvas text editing; and exports to a range of standard file formats, including PNG, SVG, EPS, PDF and DXF.
Although the software was first released in 2003, the pace of development has increased in recent years, as has uptake among professional artists, leading to the milestone Inkscape 1.0 release in 2020.
As well as graphic design, the software is used to create vector shapes for motion graphics or 3D modelling.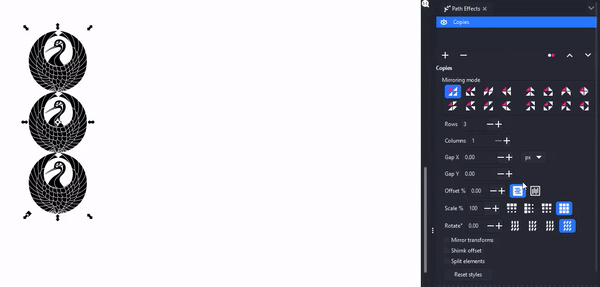 Inkscape 1.2: support for multi-page documents and new Tiling effect
The headline change in Inkscape 1.2 is the option to create multi-page documents, with support for overlapping pages, and multiple page sizes within a document.
There is also a new Tiling layer path effect for creating arrays of repeating patterns, with options to adjust or randomise pattern size, placement and spacing.
Lots of workflow improvements, including support for batch export
In addition, the update reworks several of Inkscape's key dialogs to streamline workflow.
Changes include a unified Layers and Object dialog, a unified Align and Distribute dialog, and colour gradient editing directly inside the Fill and Stroke dialog.
The Export dialog also gets a significant overhaul, adding support for batch exporting images, with options to export in multiple file formats or at multiple resolutions simultaneously.
Outside the core software, a new Clipart Importer extension makes it possible to search for royalty-free SVG files in online libraries like Wikimedia Commons directly inside Inkscape.
System requirements and release dates
Inkscape 1.2 is available under a GPL licence for 32-bit and 64-bit Windows, Linux and macOS.

Read an overview of the new features in Inkscape 1.2 on the Inkscape blog
Read a full list of new features in Inkscape 1.2 in the online release notes
Tags: 3D modeling, Align and Distribute, batch export, Clipart Importer, color gradient, color swatch, download, DXF, EPS, Extensions, Fill and Stroke, free, freehand, group, Inkscape, Inkscape 1.2, layers, Live Path Effects, LPE, macOS, motion graphics, multi-page document. color palette, native Mac app, new features, object alignment, object spacing, open source, path, PDF, PNG, repeating pattern, SVG, system requirements, text, tiling pattern, vector, vector design, vector drawing