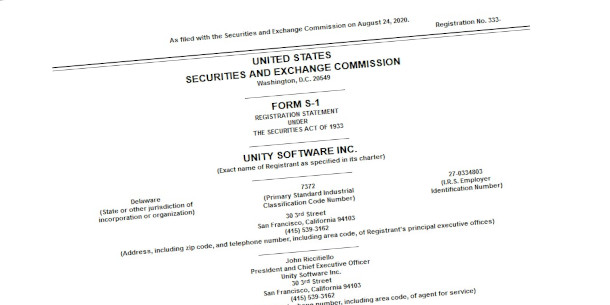 Originally posted on 25 August 2020. Scroll down for details of the completed IPO.
Game engine developer Unity Technologies has filed for an Initial Public Offering, aiming to become a publicly traded company on the New York Stock Exchange.
As part of the filing, the firm revealed that it has 1.5 million active users and estimates that Unity was used to create over half of all games in 2019, but made a loss of $163.2 million the same year.
Unity: number of users, market share and current revenues
We don't normally cover business news on CG Channel, but Unity's S-1 statement for the IPO, filed under the name 'Unity Software Inc', reveals a number of interesting facts about the firm and the Unity game engine.
Among them are the fact that it currently has 1.5 million active monthly users, and estimates that Unity was used to create "50%+ of mobile games, PC games and console games combined" in 2019.
For context, Epic Games, Unity's biggest rival, reported 6.3 million users for Unreal Engine in 2018.
In addition, it seems likely that more of those games will be lower-budget indie titles than Epic: as of June 2020, 26% of Unity's revenue comes from clients earning under $100,000/year.
However, that figure has fallen steadily since 2018, while its Operate Solutions business – its ad monetisation and enterprise hosting services – now generate more revenue than Unity subscriptions themselves.
Currently buying up other firms and running at a loss
Another interesting tidbit is that despite annual revenue of $541.8 million last year, the firm currently operates at a loss, making a net loss of $163.2 million in the same period.
A key cause seems to be Unity's aggressive recent expansion: it acquired a string of other companies in 2019, paying over $190 million in cash for Vivox, deltaDNA and art tools firm Artomatix alone.
VentureBeat has a good analysis of the other figures revealed in the S-1 statement, and the competition Unity currently faces in the market, so for more details, check out its article.
Read Unity Software's S-1 statement to the US Securities and Exchange Commission

Updated 22 September 2020: Unity has completed its IPO and is now listed on the NYSE under the ticker symbol 'U'. Sales of 25 million shares at the initial price of $52/share raised $1.3 billion.
Tags: accounts, acquisition, Artomatix, buyout, deltaDNA, enterprise clients, Epic Games, game art, game development, Game Engine, how many users does Unity have, how much money does Unity make, Initial Public Offering, IPO, losses, New York Stock Exchange, number of users, revenue, revenues, S-1 Statement, UE4, Unity, Unity Operate Solutions, Unity Software, Unity Technologies, Unreal Engine, Vivox