Tuesday, July 21st, 2020

Posted by Jim Thacker
Epic Games will pay you $10,000 to learn Unreal Engine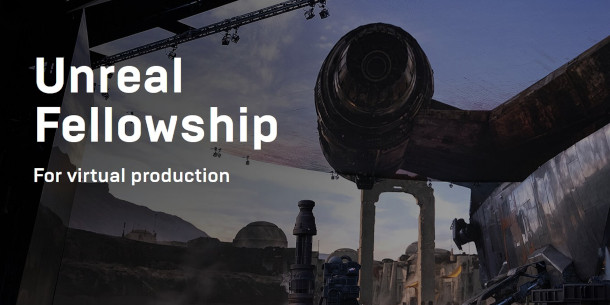 Epic Games has launched Unreal Fellowship, a new initiative that will see 50 VFX and animation professionals each paid $10,000 to learn about the use of Unreal Engine in virtual production.
Anyone interested has until next Monday, 27 July 2020 to apply for a place, while the training itself will take place online over a four-week period starting from Monday 24 August.
Designed to build a new generation of Unreal Engine VFX artists
Unreal Fellowship is Epic's latest initiative to grow the Unreal Engine ecosystem, following its $100 million Epic MegaGrants program, and a string of recent acquisitions.
It is designed to encourage tomorrow's studio founders and decision-makers to switch to Unreal Engine for visual effects and feature animation, in favour of traditional offline renderers and DCC tools.
The game engine is increasingly being used in broadcast and movie work, both for virtual production and final rendering, with a growing set of native tools and third-party add-ons.
Get paid $10,000 to learn about Unreal Engine for four weeks
Successful applicants will be paid $10,000 to cover loss of earnings during a four-week period during which they will be expected to complete an estimated 94 hours of online training, plus project-based work.
Lectures cover model ingestion, animation, mocap integration, look dev, lighting setups and cinematic storytelling, and will be supplemented by weekly mentorship meetings and guest lectures.
"At Epic we have always believed in the transformative power of real-time computer graphics for film and television production," said Epic Games CTO Kim Libreri.
"With the Unreal Fellowship we are actively investing in visionaries who will be responsible for crafting the stories of tomorrow to ensure that they are armed with a deep understanding of the many ways that real-time technology can benefit their projects."
Fantastic! How do I apply?
To apply for an Unreal Fellowship, you need at least five years' experience in commercial film and television production, immersive entertainment or game development. Applications close on Monday 27 July 2020.
The 50 successful applicants will be expected to complete an online orientation day on Friday 21 August, followed by four weeks of online classes between Monday 24 August and Monday 21 September 2020.