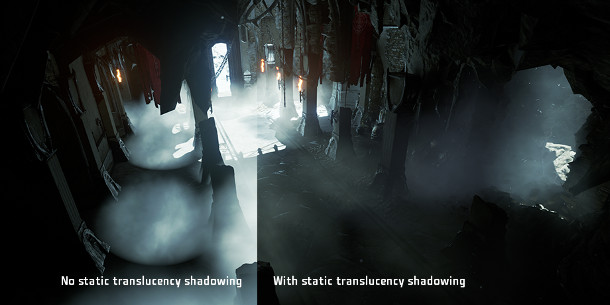 Unreal Engine 4.3 adds some fairly sophisticated render effects to Epic's game engine, including GI for skylights, distance field AO, and translucency shadowing for stationary as well as dynamic lights.
Epic Games has announced Unreal Engine 4.3. The update refines the games engine's rendering capabilities, adding GI to skylights, distance field ambient occlusion and translucency shadowing from stationary lights.
The effects are fairly subtle in Epic's test scenes, with translucency shadowing (shown above) having the most dramatic effect. The engine already supports shadowed transluency for dynamic lights.
Other than that, the changes mainly affect designers rather than artists, although there is now the option to edit splines directly in the world, and to add multiple types of collision geometry.
Pricing and availability
Unreal Engine 4.3 is currently available to subscribers as a preview build. If Epic repeats its past release schedule, it should get a full release later this month. Subscriptions cost $19 per month.
Read a full list of new features in Unreal Engine 4.3 on Epic Games' blog
Tags: AO, collision geometry, collision primitive, distance field ambient occlusion, edit spline, Epic Games, Game Engine, GI, lighting, new features, rendering, shadow translucency, skylight, Unreal Engine, Unreal Engine 4.3