Nvidia has released Quadro Experience, a free workflow application for artists using its Quadro range of workstation-class GPUs.
The app, a counterpart to the existing GeForce Experience, notifies users of driver updates, and makes it possible to record or livestream on-screen footage of DCC software for training or review sessions.
An equivalent to GeForce Experience for Quadro users
If you've used one of Nvidia's GeForce gaming-class GPUs, you will almost certainly be familiar with GeForce Experience, the company's free companion app.
Its main role is to manage driver updates, notifying users when new drivers become available and making it possible to configure downloads and installations directly through its UI.
However, it also does a range of other things, including capturing screenshots in-game, and making it possible to record gameplay videos or stream them to social media.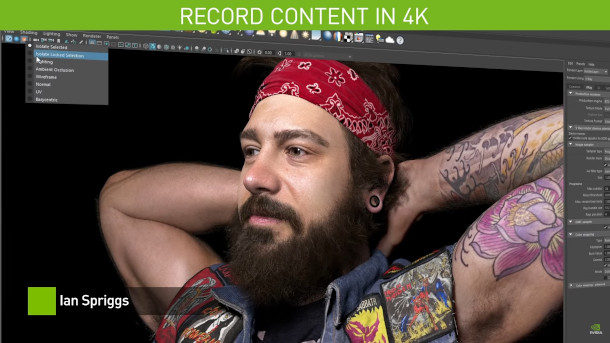 Manager driver updates and capture footage of DCC applications for training or asset reviews
The Quadro Experience app does pretty much the same things, but tweaked for a professional workflow.
Again, it managers driver updates – in this case, Optimal Driver for Enterprise (ODE) drivers, rather than the Studio drivers used when running DCC software with GeForce or Titan GPUs.
Users can also capture screenshots or record video footage of their desktop at up to 4K resolution in H.264 format, without the need for specialist capture software like Camtasia.
Captured footage can then be used in asset reviews, training material or product documentation.
In addition, the Instant Replay feature automatically records the last 20 minutes of desktop activity, which may be useful for checking old settings when iterating on a scene.
Users can also live broadcast their desktop – to Facebook, Twitch or YouTube, so that's mainly going to be useful for training or marketing work – or to a Nvidia Shield device for presentations.
Launch games or DCC software directly from the app
It is also possible to launch DCC software from within the app: the video shows 3ds Max, Maya and V-Ray.
There's no mention of it tuning software settings to improve performance on your GPU, as GeForce Experience does with games, although if you launch a game through Quadro Experience, you can use the Optimal Playable Settings system there – if you have a current-gen Quadro RTX card, at least.
System requirements
Quadro Experience is a free download. It runs on Windows 10 only and is compatible with any Quadro GPU back to and including the Kepler series: any Quadro released in the past seven years should be fine.

Download Nvidia's free Quadro Experience app
Read Nvidia's FAQs about Quadro Experience
Tags: 3ds max, 4K, asset review, Camtasia, compatible GPUs, DCC software, documentation, download, driver, driver management, free, gaming GPU, GeForce, GeForce Experience, GPU, H.264, livestream, marketing, Maya, NVIDIA, ODE, Optimal Driver for Enterprise, professional GPU, Quadro, Quadro Experience, Quadro RTX, record desktop, screen capture, screen recording, Studio driver, system requirements, Training, V-Ray, workstation GPU