Thursday, March 19th, 2015

Posted by CG Channel Administration
Nvidia unveils Quadro M6000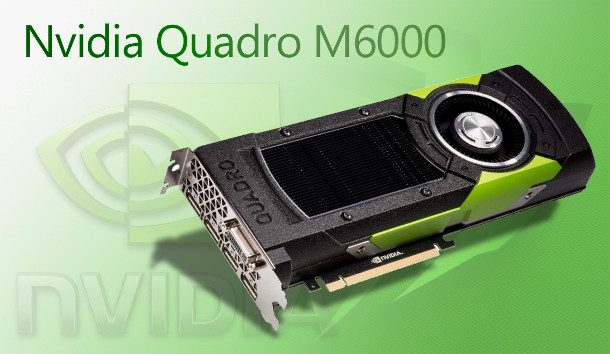 Nvidia's new Quadro M6000 workstation GPU is designed for high performance on demanding graphics tasks. Hardware reviewer Jason Lewis runs through its key specs, and reveals some preliminary benchmark results.
Nvidia has launched the new flagship product in its Quadro professional GPU line-up, the M6000.
The successor to last year's ultra-high-end K6000, the M6000 is designed to offer ultimate performance on the most extreme media, design and visualisation projects.
Technical specifications
The M6000 is built around the newest member of the Maxwell family of GPUs, the GM200, sporting 12GB of GDDR5 memory with a 384-bit interface. Nvidia claims peak single precision-performance of 7TFLOPS.
A single M6000 also boasts the ability to drive up to four 4K or two 5K displays at 30-bit color, or a single 8K projector. Additional displays can be added with the addition of another M6000.
GPU compute performance
In addition to its display performance, the M6000 offers a new level of GPU computing power in CUDA and OpenCL-enabled applications.
According to Nvidia, the M6000 will enable users to experience fully interactive raytraced graphics as part of their design workflow when paired with its iray rendering software.
A new set of plugins for 3ds Max, Maya and other DCC applications will harness the M6000's GPU compute abilities to display raytraced viewports in real time, or near real time, as well as accelerating final-frame renders.
Part of the new VCA
In addition to desktop usage, Nvidia will also be offering the new Quadro Visual Computing Appliance (VCA) a powerful network-attached rendering platform that holds eight M6000 GPUs.
Multiple VCAs can be combined to provide high-performance clusters (for example, render farms) that can be shared by multiple users.
Preliminary benchmark results
I am currently working on a full review of the M6000, along with a number of other cards from Nvidia's current Quadro lineup. Although my testing is still in the early stages, here are some of the preliminary results.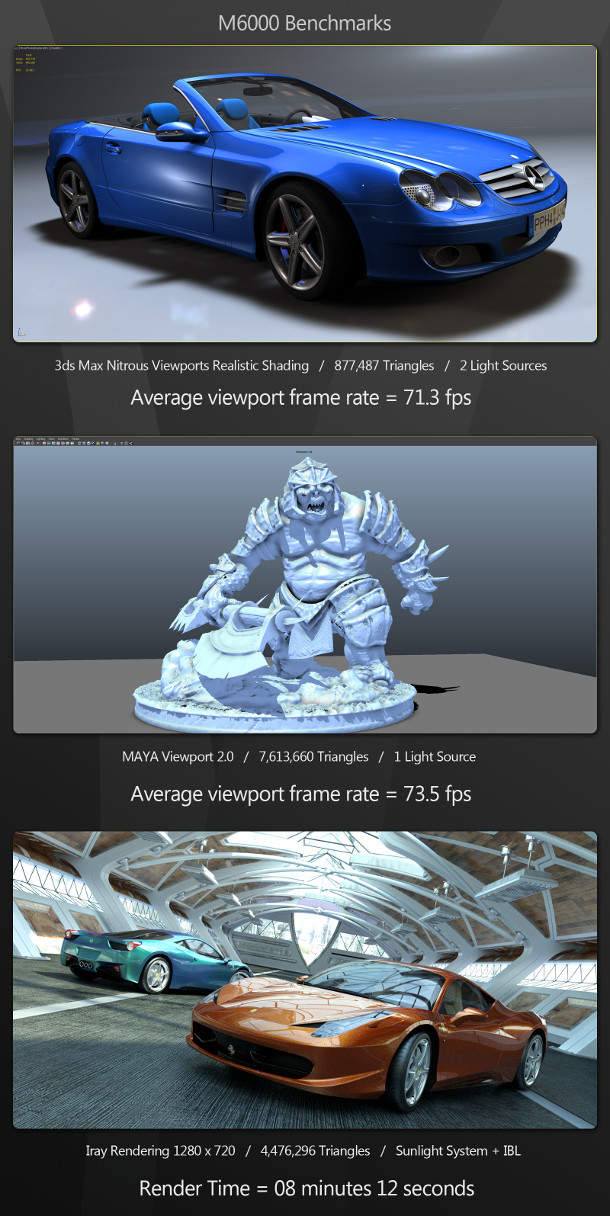 As you can see, the M6000 offers substantial performance. But how does it compare to other GPUs?
I don't have a Quadro K6000 with which to compare the M6000, but I do have a GeForce GTX Titan Black, Nvidia's high-end gaming card.
Like the K6000, it sports a full GK110 core, although it has only half the RAM: 6GB, as opposed to 12GB.
I must stress that the benchmark figures for the Titan Black are not meant as a definitive surrogate for the K6000: I am just using it to give a rough idea of the performance of existing cards.
That said, in my early tests, the M6000 surpasses our 'pseudo K6000' by roughly 50% in 3ds Max viewport performance and 30% in Maya viewport performance, with a 32% increase in iray rendering performance.
When compared to the previous-generation Quadro K5000, benchmarking shows a 130% increase in 3ds Max viewport performance, an amazing 340% increase in Maya viewport performance, and around a 70% increase in iray rendering performance.
You will be able to read full benchmarks and performance analysis in my upcoming Quadro review.
Pricing and availability
The Nvidia Quadro M6000 will be available in retail channels in early April. Pricing has not yet been announced.
Read full specifications for the Quadro M6000 on Nvidia's website
Jason Lewis has over a decade of experience in the 3D industry. He is currently Senior Environment Artist at Obsidian Entertainment and CG Channel's technical reviewer. Contact him at jason [at] cgchannel [dot] com