Thursday, July 25th, 2013

Posted by Jim Thacker
Nvidia announces Quadro K6000 GPU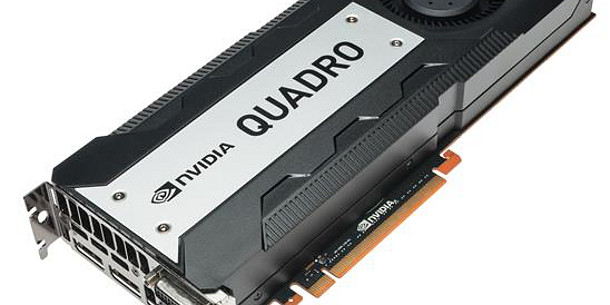 Nvidia has announced the Quadro K6000, its new top-of-the range professional GPU, and a card that it describes as "the highest performance, most capable GPU ever created for the professional graphics market".
The latest of Nvidia's GPUs based on its Kepler architecture, the card features 2,800 streaming cores and a whopping 12GB of GDDR5 graphics RAM. The news was announced at Siggraph 2013 this week.
Five times the compute power of the card it replaces
AnandTech has a detailed article showing how the K6000 stacks up against the existing K5000 and its last-generation equivalent, the Quadro 6000, including some specs that aren't in Nvidia's press release.
"Besides the obvious doubling in memory [over the Quadro 6000], Quadro K6000 offers 1.7x the graphics performance but 5x the compute performance," the article notes.
Comparisons between manufacturers are harder, but the FirePro W9000, AMD's current top-of-the-range GPU features 'only' 6GB of graphics RAM, although it can drive six separate displays to the K6000's four.
Release dates and pricing
The K6000 is due to become commercially available later this year. Nvidia hasn't announced a price yet, but expect to need deep pockets: based on previous releases, AnandTech predicts a figure of $5,000 to $7,000.
Read Nvidia's official press announcement for the Quadro K6000