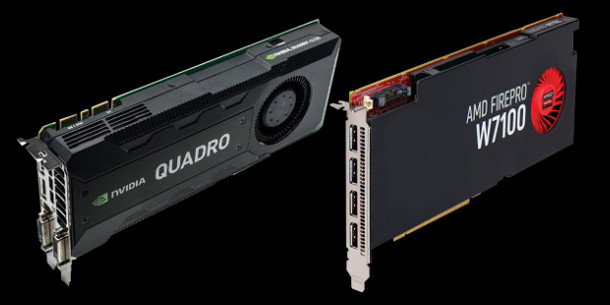 Nvidia and AMD have refreshed their professional graphics cards line-ups. Nvidia has announced five new Quadro cards, including the K5200 (left), while AMD announced four new FirePros, including the W7100 (right).
Nvidia and AMD have both announced near-complete refreshes of their Quadro and FirePro professional graphics card line-ups, unveiling a total of nine new GPUs. The announcements were made at Siggraph 2014.
Five new Nvidia Quadro K-series cards
Nvidia has five new Quadro cards: the entry-level K420 and K620, and its real workhorse cards, the K2200, K4200 and K5200, which replace the previous-generation K2000, K4000 and K5000 models.
That leaves only two cards from the previous line-up: the K5000 for Mac, and the top-of-the-range K6000, which is only a year old – not to mention still packing a pretty hefty processing wallop.
AnandTech has a very thorough run-down of the new cards, so we'd refer you for that for the detailed stats.
But as a point of comparison, the K5200 has double the graphics RAM of the K5000 it replaces (8GB as opposed to 4GB) and 50% more CUDA cores (2,304 as opposed to 1,536) – so as usual, it's a fairly major jump in spec.
Four new AMD FirePro W-series cards, plus two out earlier this year
AMD had already announced its new top-of-the-range cards: the FirePro W9100 – which, at 16GB of graphics RAM, out-specs even the K6000 – and the lower-specced, but price/performance-competitive FirePro W8100.
To that, we can now add the W2100, W3100, W5100 and W7100. Again AnandTech has a full breakdown, but the relative improvements in technical specs are similar.
For example, the new W7100 doubles the graphics RAM of its predecessor, the W7000 (8GB instead of 4GB) and adds 40% more Stream processors (1,792 instead of 1,280).
Pricing and availability
Neither Nvidia nor AMD has announced official prices for the new cards, but we'd expect them to follow those of their previous-generation equivalents.
All of the new Nvidia cards and AMD's FirePro W2100, W4100 and W5100 will be available in September, with the W7100 following towards the end of the year. The W8100 and W9100 are already shipping.
View a comparison table of the new Nvidia Quadro cards on AnandTech
View a comparison table for the new AMD FirePro cards on AnandTech
Tags: AMD, FirePro, GPU, graphics card, K2200, K420, K4200, K5200, K6000, K620, new cards, NVIDIA, professional, Quadro, release date, shipping date, Siggraph 2014, specifications, specs, W2100, W4100, W5100, W7100, W8100, W9100, workstation