Thursday, August 4th, 2016

Posted by Jim Thacker
Nvidia announces Quadro P6000 and P5000 pro GPUs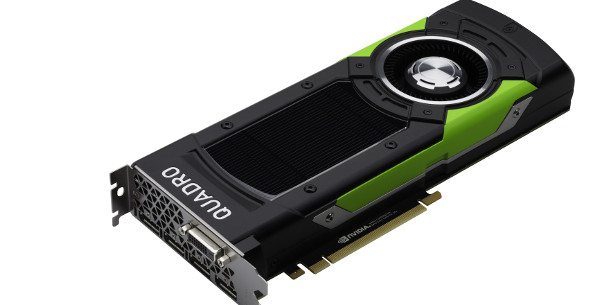 Nvidia's upcoming Quadro P6000 workstation graphics card boasts 24GB of GDDR5X memory and 12 Tflops FP32 GPU compute performance. The firm has also announced a second new Pascal-series card, the P5000.
Nvidia has announced the Quadro P6000 and P5000, its latest workstation GPUs for graphics professionals.
The cards, which are based on Nvidia's Pascal architecture, and which replace the old Maxwell M6000 and M5000 GPUs, were announced last week at Siggraph 2016.
New Pascal GPU architecture gives improved compute performance
The main change in the cards is the new GPU architecture. The P6000 uses Nvidia's new GP102 GPU core and the P5000 the GP104 core, in place of the M6000 and M5000's GM200 and GM204.
That means an increase in CUDA cores and core clock speed, and a corresponding increase in GPU compute performance: the P6000 boasts a peak single-precision floating-point performance of 12.0 Tflops, compared to 7.0 Tflops for the M6000, and the P5000 a figure of 8.9 Tflops compared to 4.3 Tflops for the M5000.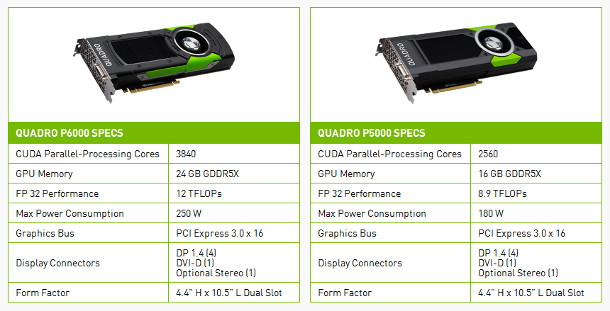 Incremental updates in graphics memory and connectivity
The other specs are less of a step up – at least if you're using the most recent version of the M6000, which upgraded the card from 12GB to 24GB of graphics memory.
Like the newest M6000, the P6000 comes with 24GB of memory, although it's GDDR5X rather than GDDR5, which raises the memory clock speed from 6.6GB/s to 9.0GB/s.
The P5000 comes with 16GB GDDR5X RAM, up from 8GB GDDR5 RAM on the M5000.
Connectivity is an incremental update: four DisplayPort 1.4 connectors and one DVI-D connector on the newer cards, four DisplayPort 1.2 connectors and one DVI-I connector on the older ones.
Maximum power consumption is unchanged at 250W between the M6000 and P6000; up from 150W for the M5000 to 180W for the P5000.
AnandTech has a good article going into the cards' other specifications in more detail, and summarising Nvidia's other announcements from Siggraph.
Pricing and availability
The Nvidia Quadro P5000 and P6000 will become available in October 2016. Pricing has yet to be announced, but given the current MSRPs of $2,000 and $5,000 for the M5000 and M6000, expect to pay for the power.
Read more about the Quadro P5000 and P6000 on Nvidia's website