Thursday, April 28th, 2016

Posted by Jim Thacker
Nvidia unveils the Quadro M2000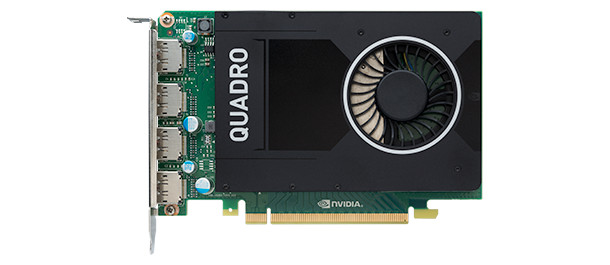 Nvidia has announced the Quadro M2000, a new sub-$500 professional workstation GPU with 4GB of graphics RAM, replacing the old Kepler-based K2200 card in the Quadro product family.
'The world's most powerful professional graphics card under $500'
The new card rounds out the bottom end of Nvidia's line-up of cards based on its current Maxwell architecture, the M400, M5000 and M6000 all having been released last year.
Like its predecessor, it's a single-slot card with 4GB GDDR5 graphics RAM, but ups the memory bandwidth from 80 to 106GB/s and peak single-precision compute performance from 1.3 to 1.8 Tflops.
It comes with four DisplayPort 1.2 connectors.
Develop3D has a good comparison between the specs of the M2000 and K2200 here. The story describes the M2000 as a CAD-focused card, but like the other Quadros, it's also certified for Autodesk and Adobe tools.
Pricing and availability
The Quadro M2000 is expected to become available from workstation vendors this month, and as a standalone purchase shortly after. There's no word on pricing yet, but Nvidia's newsletter describes it as "under $500".