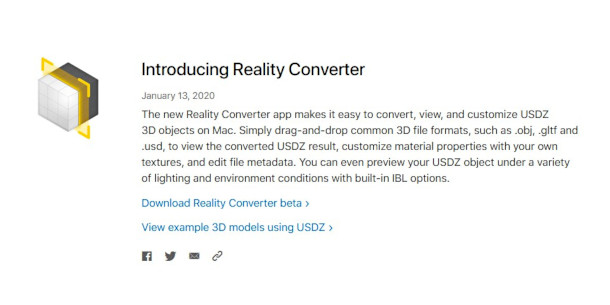 Apple has released Reality Converter, a free USDZ file viewer and converter.
The software, which is still officially in beta, enables users to convert assets in common 3D file formats to USDZ, preview them with image-based lighting, and perform simple edits to materials.
An open data interchange format for augmented reality content
Co-developed by Apple and Pixar, USDZ is intended as an open data interchange format, primarily for augmented reality content.
As well as Apple's own suite of tools for authoring AR apps, including ARKit and Reality Composer, the format is supported by Aero, Adobe's new AR authoring tool.
Models in USDZ format can also be viewed in Apple's own iOS apps, including Safari, Messages and Mail.
Convert OBJ or glTF files to USDZ and edit materials and lighting
Reality Converter converts existing 3D assets in OBJ, glTF or USD format to USDZ.
Once converted, users can edit a model's material properties, or assign new textures to it, and view the results under a range of lighting and environment conditions via built-in IBL presests.
Free USDZ converters for Windows and Linux users
As one of Apple's developer tools, Reality Converter is Mac-only: it runs on macOS 10.15.
However, there are a range of cross-platform tools for converting existing 3D assets to USDZ format, including free online converter ViewAR, which converts OBJ, 3DS and FBX files.
Online 3D and AR design tool Vectary converts models from a wider range of 3D formats, and can be used to view models for free, although to export them, you will need a commercial subscription.
You can also export USDZ files from Bridge, Quixel's free asset manager for Windows, Linux and macOS.
Updated 25 March 2019: Online portfolio service Sketchfab has also now introduced USDZ support.
Files uploaded to the site are automatically converted to USDZ, making it possible to convert models in a wide range of 3D formats, including Blender scene files. You can upload one file free per month.
However, conversion is only available for files made available as free public downloads, or those sold through Sketchfab's own online store.
Download Reality Converter from Apple's developer website
(Requires free Apple ID to log in)
Tags: 3DS, Adobe, Aero, Apple, AR, ARKit, Augmented Reality, Blend, Blender, bridge, convert 3D model to USDZ, download, FBX, file converter, file viewer, free, glTF, Linux, macOS, OBJ, online, Pixar, Quixel, Reality Composer, Reality Converter, RealityKit, Sketchfab, system requirements, USD, USDZ, Vectary, ViewAR, Windows