Tuesday, November 19th, 2019

Posted by Jim Thacker
Abvent ships Artlantis 2020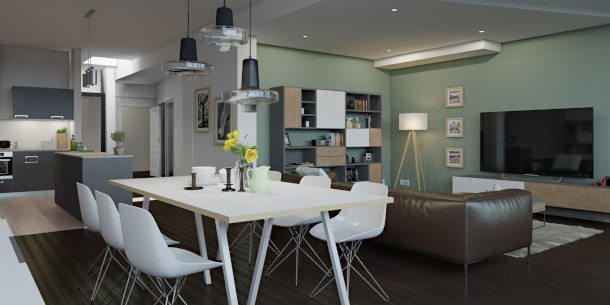 Abvent has released Artlantis 2020, the latest version of its architectural rendering software, adding a render denoiser, a new light portals system, new 3D grass types, and presets for RAL paint colours.
New render denoiser and light portal system reduce noise in images
Major features in Artlantis 2020 include a new denoising system for removing noise from renders, as a quicker alternative to increasing quality settings.
The product website doesn't go into any technical details, but it seems to be hardware-agnostic: the system requirements don't list a specific manufacturer's processors.
The update also adds a new Portals tool for setting up light portals across windows in interior scenes, reducing noise, particularly in test renders with low sampling settings.
New readymade 3D grass types and presets for real-world paint colours
Abvent has also added four new types of 3D grass to the resources that ship with the software; and updated six others with new control settings including colour and density.
Artlantis 2020 also includes presets for 243 codified colors and tints from the RAL Effect, RAL Design and RAL Classic colour charts, used in Europe to specify paint colours for architecture and construction.
One change from Artlantis 2019 is that the commercial version of Twinlinker, Abvent's app for creating and sharing 'virtual visits' of architectural scenes online, is no longer available in the online store.
According to forum posts, Abvent still owns the software – it wasn't sold to Epic Games along with Twinmotion, Artlantis's sister product, last year – and the free version is still available online.
Pricing and availability
Artlantis 2020 is available for Windows 8+ and macOS 10.13+. New licences cost €650 (around $720).
Read a list of new features in Artlantis 2019 on Abvent's website