Friday, August 9th, 2019

Posted by Jim Thacker
Blackmagic Design ships DaVinci Resolve 16.1
Blackmagic Design CEO Grant Petty announces the beta releases of DaVinci Resolve 16.1 and DaVinci Resolve Studio 16.1, alongside the firm's latest hardware. DaVinci Resolve is covered at the start of the video.

Originally posted on 9 August 2019. Scroll down for news of the stable releases.
Blackmagic Design has released DaVinci Resolve 16.1 and DaVinci Resolve Studio 16.1, the latest updates to its colour grading, editing and post-production software, in public beta.
The releases make "major updates" to the software's new cut page, including more 'smart editing' features, and add a new ResolveFX stop-motion effect and support for a full-screen viewer on an additional display.
The beta versions were released in parallel to the new stable builds of the software, DaVinci Resolve 16.0 and DaVinci Resolve Studio 16.0, and Fusion 16 Studio, Blackmagic Design's standalone compositing app.
An extra beta release to continue changes to the software's new cut page
The release is the first time that Blackmagic has rolled out a new public beta of DaVinci Resolve at the same time as a stable release: something that seems to be mainly down to the software's new cut page.
Intended for editors working on projects with tight deadlines, like news and commmercials, the cut page provides a more "streamlined" alternative to the existing edit page, with integrated colour, audio and titling.
Its unique features include a source tape mode, presenting all the clips in the media bin as a single, continuously scrubbable 'tape', and a dual timeline for trimming clips.
Although used in parallel to the edit page, not as a replacement for it, it's a significantly different workflow.
On its initial release in DaVinci Resolve 16.0, some users compared the cut page to the opinion-polarising changes that Apple made to Final Cut Pro in Final Cut Pro X.
During a livestream announcing the new betas, Blackmagic Design CEO Grant Petty admitted that "because these ideas [about the design of the cut page] are new, we're not quite sure if they're right".
"We wanted to keep going … on new features, but we can't keep the [16.0] beta going forever," he said.
"Larger studios need to upgrade their systems before the [new programming] season starts. We have a responsibility to these large facilities."

Cut page: new workflows for grouping media and syncing multi-camera footage
Workflow changes to the cut page in 16.1 include the option to group media into folders within the media bin, making it possible to control which clips become available for use.
Users can view clips from all of the folders below the level currently selected, with the source tape reconfiguring in real time as they navigate between levels in the bin.
For multi-camera set-ups, there is a new Sync Bin view, which shows synced clip cutaways for the current shot on the timeline in a live multi-view for up to nine cameras.
Shots from a single camera can be grouped automatically, based on timecode and metadata; and a new Sync Clip window provides clip syncing based on timecode, audio waveform or in and out points.
Cut page: new 'smart editing' features – including automatic detection of boring edits
DaVinci Resolve 16.1 also updates the cut page's predictive editing functionality, with new Smart Indicators showing where in the timeline the software will make changes, eliminating guesswork in complex edits.
Indicator positions update in real time as the user moves around the timeline.
The update also introduces more 'smart editing' features, including a brilliantly self-descriptive Boring Detector, which highlights clips on the timeline that may need to be cut down in length.
Its counterpart, a jump cut detector, highlights jarringly quick edits.
The software's close up edit feature has also been updated using the AI-driven DaVinci Neural Engine introduced in 16.0, automatically identifying faces in a shot and reframing it accordingly.
The release also introduces new workflows for cutting clips, slide edits, and creating picture-in-picture views, plus updates for the new DaVinci Resolve Editor Keyboard.
You can find a full list of changes via the links at the foot of the story.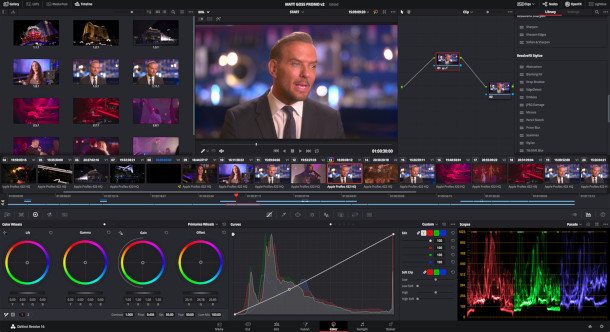 VFX, compositing and grading: new stop-motion effect, support for an additional full-screen viewer
Although they're relegated down the feature list, DaVinci Resolve 16.1 does also introduce a number of features for users more interested in the software's other toolsets.
For the ResolveFX effects toolset, that means a new stop-motion effect. ResolveFX and third-party OpenFX plugins can also now read and modify alpha channels in footage.
The Fusion compositing toolset can now read upscaled clips from the media bin, and playback on single-GPU systems and memory management on multi-GPU systems have been improved.
During colour grading, users can now update the shared node grade from a version stored in a gallery still; and can paste power windows via the Power Windows option menu.
The software also now enables users to view flags applied to the current clip on the video monitoring output.
DaVinci Resolve Studio can also now display a full-screen viewer on an additional display: pretty close to support for a true secondary broadcast monitor, according to early testers posting in this forum thread.

Updated 18 October 2019: DaVinci Resolve 16.1 and DaVinci Resolve Studio 16.1 are now out of beta. The stable releases are available for Windows 10, CentOS 7.3 Linux and macOS 10.14.6.
For Mac users who rely on external Nvidia GPUs, this forum thread suggests that the 16.x releases will still work with macOS 10.13, albeit unofficially.
The base edition of the software is free; the Studio edition, which enables you to work at resolutions higher than UHD and adds a range of advanced features, costs $299.
As far as we can tell, all of the features discussed in this story are available in the free edition of the software, with the exception being able to display a full-screen viewer on a secondary display.

Read an overview of the new features in DaVinci Resolve 16.1 and DaVinci Resolve Studio 16.1
Read a full list of new features in DaVinci Resolve Studio 16.1 on Blackmagic Design's forum