Russian3DScanner (R3DS) has released Wrap 3.4, the latest version of its tool for transferring topology from an existing model to a 3D scan, adding a new brush sculpting toolset and a new BlendWrapping method.
Other changes include the option to copy transformations from one object to another, and a number of usability improvements to the software's underlying node graph.
A powerful standalone tool for processing 3D scan data from live actors
First released in 2014, Wrap is designed to process facial and full-body 3D scan data.
Its main role is to transfer the clean topology from a reference mesh to a 3D scan, speeding up the process of creating animation-ready characters or facial blendshapes from raw scan data.
The process is semi-automatic, and adjustments made for one scan can then be rolled out to others.
The software also provides a set of more general scan-processing tools, making it possible to perform common operations like decimation, mesh filtering and texture projection.
Users include a number of leading VFX facilities and game developers, including Framestore, The Mill, EA Canada and Rocksteady Studios.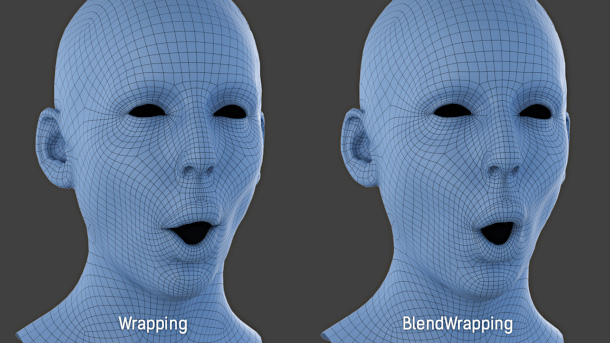 New in Wrap 3.4: more accurate new BlendWrapping method, new sculpting brushes
New features in Wrap 3.4 include BlendWrapping, a new wrapping method that uses existing wrapped meshes – for example, a set of facial blendshapes – as reference to improve the quality of output.
According to R3DS, scans processed in this way require "almost no cleanup".
BlendWrapping also copes with more extreme mesh deformations than standard wrapping, but doesn't fit the base mesh to the target surface as tightly, so R3DS recommends using the two methods in succession.
The update also adds a new set of sculpting brushes to the software, intended primarily for cleaning up artifacts created by wrapping and making minor edits to a mesh.
They work in a way that should be familiar from dedicated sculpting tools like ZBrush and Mudbox, and include Move, Sculpt, Inflate, Project, Relax and Clone brushes.
Other changes include a new CopyTransform node, which copies transformations from one object to another, with the option to invert the transform.
There are also a number of workflow improvements to the software's node graph, including the options to copy and paste nodes, to connect nodes by clicking and dragging, and to align nodes automatically.
You can find a full list via the link below, along with features added earlier in the Wrap 3 release cycle, including the node graph itself, the undo/redo system, and a third wrapping method based on optical flow.
Pricing and availability
Wrap 3.4.8 is available for Windows 7+ and Linux.
A node-locked Indie licence, available to users with revenues under $100,000/year, costs $370. For anyone else, a node-locked Professional licence costs $670; a floating Professional licence costs $970.
All prices include one year of support and upgrades. The software is free to students, teachers and schools, with educational licences available on request.

Read a full list of new features in Wrap 3.4 in the online changelog
Read more about Wrap on R3DS's website
Tags: 3D scan, blendshape, BlendWrapping, brush editing, brush sculpting, brush toolset, CopyTransform, decimation, edit 3D scan data, mesh filtering, Mudbox, new features, node graph, optical flow, price, process 3D scan data, R3DS, retopologize 3D scan data, retopology, Russian3DScanner, system requirements, texture projection, topology, Wrap, Wrap 3, Wrap 3.0, Wrap 3.4, ZBrush