Quixel has released Mixer 2019, the "biggest ever" update to its work-in-progress material-authoring tool, currently available as a free beta.
The update introduces a new Mask Stack, providing users with more control over the way scan data is blended – and enabling them to author completely synthetic procedural materials.
A next-gen tool for creating PBR materials by blending 3D scan data
First released in beta last year, Mixer began as a companion app for subscribers to Quixel's Megascans library of 3D scan data: the original name for the software was Megascans Studio.
Over the course of the year, it evolved into a more broadly featured tool for blending 3D scan data from any source to create new materials.
The software uses a non-destructive layer-based workflow, and includes a brush-based toolset for multi-channel painting and sculpting, outputting standard texture maps at up to 32-bit resolution.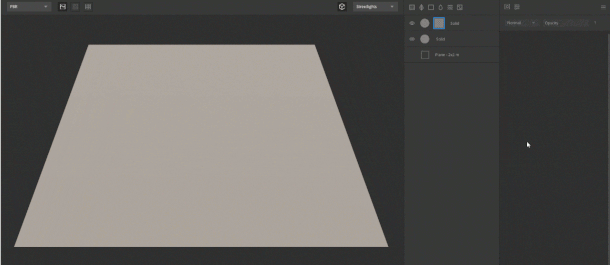 New Mask Stack lets users author materials procedurally
On top of that, Mixer 2019 throws parametric material authoring into the mix.
As well as simply enabling artists to use masks to control how existing materials are blended, the new Mask Stack can be used to create more stylised materials from scratch.
Readymade 'components' generate repeating patterns or procedural noise, while modifiers blur, bevel or transform the resulting masks, or map gradients to them.
When combined, components and modifiers can generate synthetic materials resembling anything from tiles and cobblestones to "sci-fi surfaces".
Other use cases shown in the teaser video at the top of the story include terrain generation and converting source images to PBR materials, using the Mask Stack to extract normal and cavity data.
Going head to head with Substance Alchemist?
If those use cases seem familiar from another recent software demo, there's a reason for that: the new functionality gives Mixer pretty much the same overall feature set as Substance Alchemist, Allegorithmic's next-gen material authoring tool, itself currently in beta.
Quixel's description of Mixer as "a material authoring software with … a focus on hybrid workflows: scan data, procedurals, hand painting and sculpting" could equally apply to Alchemist.
Pricing and system requirements
Mixer is now available as a free beta for Windows and Mac OS X. The beta period is expected to last for "most of this year".
The software is also still available as part of Quixel's Megascans subscription, with prices ranging from $29/month for Personal plans to just under $12k/year for Business plans.
Read more about the new features in Mixer 2019 on Quixel's blog
Download Mixer for free from Quixel's website
Tags: beta, download, free, layer stack, material authoring, material creation, Mixer, Mixer 2019, new features, parametric, pattern generation, PBR, procedural, procedural noise, Quixel, Quixel Mixer, release date, system requirements, terrain generation, texture painting