Friday, October 26th, 2018

Posted by Jim Thacker
FXhome ships Imerge Pro

HitFilm developer FXhome has released Imerge Pro, a new still image-editing tool that it describes as the "world's first non-destructive RAW image compositor".
Pitched as a cross between Photoshop and Lightroom, the $149 application promises to let users create composites "with unlimited layers and zero baked-in changes".
Full 16-bit float image processing, though import and export is limited
As well as RAW files – it supports EXIF, XMP and IPTC metadata – Imerge Pro can import images in a range of standard file formats: JPEG, PNG, TIFF, EXR, HDR and PSD.
Image-processing operations are then all done in 16-bit float space.
However, you can't import layered files – EXRs have to be single-layer RGBA, and PSDs have to be flattened first – and can only export in JPEG, TIFF or PNG format.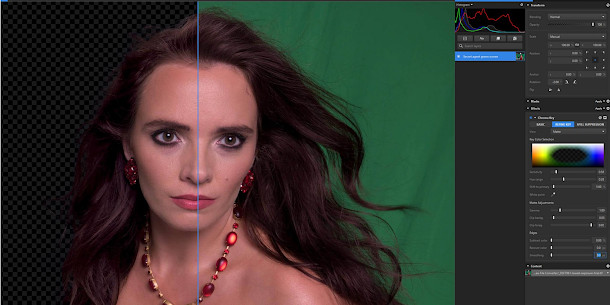 A standard range of effects and filters with some neat masking, keying and grading options
Compared to Adobe's applications, Imerge Pro offers a more streamlined, stripped-down feature set: don't expect anything like Content-Aware Fill or facial recognition, at least in the initial release.
The software supports an unlimited number of layers, with 21 standard blending modes: you don't get the more esoteric Photoshop modes like Pin Light or Linear Light.
There are 38 filters and layer effects, ranging from basic colour and saturation adjustments and blur, grain and sharpen effects to Dehaze and Bleach Bypass.
Each effect can have its own mask, and you can apply multiple effects and masks within a single layer, which makes it possible to make quite complex edits without creating layer groups.
Text and image layers are also treated equally, so any mask or effect can be applied to text, although the actual range of text-editing options is relatively limited.
However, Imerge Pro's greenscreen toolset is well developed – and, presumably, uses some of the same technology as its sister product PhotoKey Pro.
As well as a choice of chroma, colour difference or luminance keying, it comes with a range of edge refinement, light wrap and spill removal options for more complex tasks like isolating hair.
The grading workflow is also interesting, including what looks to be an intuitive graph display, which you can see at 10:55 in the video above.
Batch processing options for exporting multiple variations of an image
Imerge Pro doesn't support macros, but there is quite a powerful batch-processing system for exporting images in multiple formats or resolutions, or exporting variants based on combinations of layers.
The software is GPU-accelerated and supports multiple CPU cores, although the system requirements are fairly minimal. It uses OpenCL and OpenGL, so it should work with any recent graphics card.
Pricing and availability
Imerge Pro is available for 64-bit Windows 8.1+ and Mac OS X 10.12+. It costs $149. There is also a free watermarked demo version, so you can try before you buy.