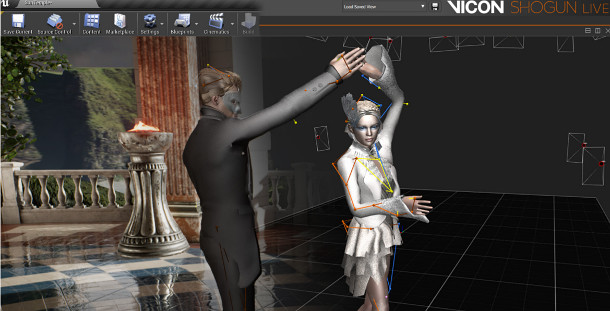 Originally posted on 15 March 2018. Scroll down for news of the commercial release.
Vicon has announced Shōgun 1.2, the latest update to its motion-capture software, intended for calibrating and processing data generated by its optical mocap systems.
The update, which will go on show at GDC 2018, adds SDI video support, the option to solve custom skeletons, and to stream data directly into Unreal Engine.
Stream, solve and clean data from Vicon's optical motion-capture hardware
First released last year, Shōgun is intended for calibrating Vicon's optical motion-capture systems; and for streaming, solving and cleaning data captured from them, via its Shōgun Live and Shōgun Post toolsets.
The successor to the firm's earlier Blade software, Shōgun is used at VFX facilities including Framestore, which used it on Blade Runner: 2049, and game developers like EA, Activision and Ubisoft.
New in Shōgun 1.2: support for SDI video and custom rigs, stream directly to Unreal Engine
At the time of posting, Vicon's online documentation hasn't been updated with a full list of new features, so we've reproduced the relevant section from the Shōgun 1.2 datasheet:
SDI Video Support
Shōgun will allow you to add and record up to two SDI Video Camera devices. This includes support for calibrating cameras so that they become part of your motion capture system and allow you to overlay 3D video. We will support Blackmagic cameras and capture cards at launch, as well as other systems in the future.
Custom Skeleton Solving
Shōgun now allows users to create custom skeletons with meshes from within Shōgun Post. These custom rigs can then be loaded into Shōgun Live and used as part of the capture pipeline, including recording to MCP. This allows for game or film rigs to be driven directly, using our full body marker-based solver.
Shōgun Post
We've improved the workflow in Shōgun Post to export un-distorted video as part of your FBX pipeline alongside the camera positions. This is great if you want to validate your skeleton solve in Maya or MotionBuilder.
Offline Subject Calibration Using Vicon Characters
We've updated the offline subject calibrator and brought it in line with Shōgun Live.This includes adding support for offline calibration in Shōgun Post, using the same Vicon male and female characters that are available in Shōgun Live.
Custom Prop Solving
We have added support for custom props with meshes in Shōgun. This allows for rigged props to be added to your Shōgun workflow.
General Improvements
– Pin cameras in Shōgun Live
– X2D and video camera data is now available in MCP Review
– FBX files load into Shōgun with support for textures and additionalleaf joints in the hierarchy
– Brighten video files as part of your batching in Shōgun Post
– Print timecode to videos in Shōgun post
– Zoom the Shōgun Post timebar in post and easily set range handles
– Bug fixes
In addition, Shōgun now also works with Unreal Engine's new Live Link system, making it "the only optical motion capture technology capable of streaming data directly into Unreal Engine 4".
Pricing and availability
Updated 26 April 2018: Shōgun 1.2 is now officially shipping for Windows 7+ only.
The software is usually bought as part of a complete Vicon motion-capture system, which are priced on enquiry: the firm does not list prices for its products publicly.
Read more about Shōgun 1.2 in Vicon's GDC 2018 news announcement
Tags: calibration, custom rig, GDC 2018, live link, mocap, motion capture, new features, optical motion capture, price, release date, retargeting, SDI, Shōgun, Shōgun 1.2, Shōgun Live, Shōgun Post, solving, streaming, UE4, Unreal Engine, Vicon