The last particleIllusion demo reel, created in 2011. The veteran After Effects 2D particle animation tool is to be relaunched by new owner Boris FX as Particle Illusion, and will go on show at NAB 2018 in April.

Boris FX is to relaunch veteran After Effects particle animation tool particleIllusion as part of its upcoming Continuum 12 plugin suite.
The rebooted plugin, now officially rebranded Particle Illusion, will be demoed at NAB 2018.
One of the longest-established After Effects particles tools
Particle Illusion is one of the longest-established After Effects particle tools, having been around in one form or another for almost 20 years.
Distributed by developer Alan Lorence through his own company, Wondertouch, throughout the 2000s, the plugin was acquired by GenArts in 2009 – itself then bought by Boris FX in 2016.
By that point, Lorence had left GenArts to found a new business creating hand-made furniture, but he rejoined Boris FX earlier this year to act as product manager once more.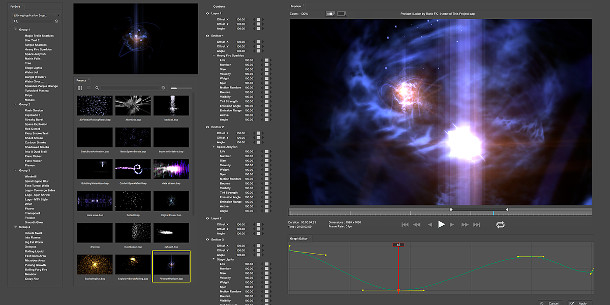 'Redesigned from the ground up' – but no details on new features yet
Boris FX describes the new version of Particle Illusion (above) as having been "redesigned from the ground up", and featuring "a lightning fast GPU-accelerated engine with a simple, easy-to-learn interface".
Other than that, there's no information on new features in the company's press annnouncement: we'll update if more information becomes available at NAB.
In its previous form, Particle Illusion was a fast, flexible 2D particle animation system, featuring over 3,000 preset effects.
Pricing and availability
Particle Illusion will be available as part of Continuum 12 and the Continuum 12 Particles unit. Boris FX hasn't announced pricing or a commercial release date yet.
The current version, Continuum 11, is priced at $695 to $1,995, depending on host platform. The Continuum 11 Particles unit costs $299.
Both are available for a range of editing and compositing tools, including Nuke as well as After Effects.
Read more about the relaunch of Particle Illusion in Boris FX's official news announcement
Tags: 2D, After Effects, Alan Lorence, BorisFX, GenArts, GPU-accelerated, NAB 2018, new features, particle animation, particle effects, Particle Illusion, particle system, particleIllusion, Wondertouch