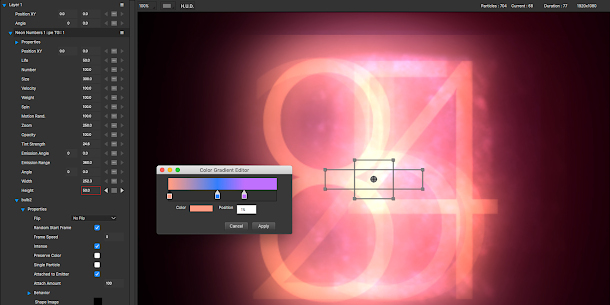 Boris FX has released a free update to Continuum, its suite of effects plugins for editing and compositing software, extending the functionality of its new Particle Illusion toolset.
Performance boosts and new Properties panel for Particle Illusion
Formerly a standalone app, Particle Illusion – previously known as particleIllusion – was first added to Continuum in the original Continuum 2019 release.
Boris FX described the new version as having been "redesigned from the ground up as a 64-bit application".
The latest update – which gets the rather convoluted title of Continuum 2019 (12.0.1), Continuum 2019 having originally been Continuum 12 in the firm's old version numbering – further improves performance.
In its official announcement, Boris FX cites "major" improvements to rendering and within Particle Illusion's interface, although it doesn't put figures on the speed boosts.
The update also adds a new properties group within Particle Illusion, from which it is possible to edit "nearly all" applied emitter settings.
Updates to Particle Emitter 3D and Title Studio
Elsewhere within Continuum, the existing Particle Emitter 3D filter gets 16 new presets, while titling tool Title Studio gets centre cut title safe and action safe zones.
The update also makes Continuum 2019 available for Final Cut Pro X and Motion, although the edition for Apple software currently doesn't include Particle Illusion.
Pricing and system requirements
Continuum 2019 (12.0.1) is available for After Effects CS 5.5+, Da Vinci Resolve 12.5+, Final Cut Pro X, Media Composer 5+, Nuke 9+, Premiere Pro CS 5.5+ and Vegas Pro 14+.
The update is free to registered users; new licences cost between $695 and $1,995, depending on which permutation of host software you buy it for.
Read a full list of new features in Continuum 2019 (12.0.1) on Boris FX's blog
Tags: After Effects, Boris FX, compositing, Continuum, Continuum 12, Continuum 12.0.1, Continuum 2019, Continuum 2019 (12.0.1), DaVinci Resolve, editing, Final Cut Pro X, free, Media Composer, new features, nuke, particle effects, Particle Emitter 3D, Particle Illusion, particle system, particleIllusion, plugin, Premiere Pro, price, system requirements, Title Studio, update, Vegas Pro