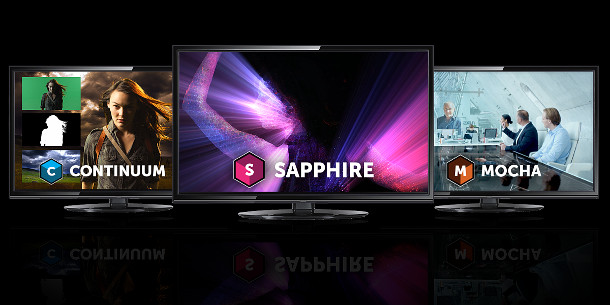 Boris FX has announced Boris FX Suite 2018, a new product comprising its Continuum and Sapphire collection of plugins for common editing and compositing software, plus planar tracker Mocha Pro.
New versions of Continuum, Sapphire and Mocha Pro – which, if Boris FX sticks to its current version numbering, will be Continuum 12, Sapphire 12 and Mocha Pro 6 – will be demoed at NAB 2018 next month.
Buy all three products under a single licence
According to Boris FX, the new package will offer the three component products "in one cost-effective suite".
Unlike its existing product bundle, the Suite will only require a single licence, managed by new installation and licence activation tool Boris FX App Manager.
New features in Continuum 12, Sapphire 12 and Mocha Pro 6
Of the new versions of the component products, utility plugin suite Continuum 12 will feature a 'rebooted' version of veteran After Effects particle tool particleIllusion, now rebranded Particle Illusion.
Mocha Pro 6 will get "an improved interface, new tools for rotoscoping and mask creation, and speed improvements in object removal and clean plating", as will Mocha VR 6, its sister tool aimed at VR work.
The integrated versions of Mocha included in Continuum 12 and Sapphire 12 will also feature the new 'Essential Interface Mode', intended to streamline common tracking and masking tasks.
As yet, we don't have any information on their other new features. We'll update if we do.
Pricing and availability
Boris FX hasn't announced pricing or a release date for Boris FX Suite 2018 yet, or for Continuum 12, Sapphire 12 or Mocha Pro 6.
The current multi-licence product bundle, comprising Continuum 11, Sapphire 11 and Mocha Pro 5, is available for a range of compositing and editing software, and is priced at between $2,295 and $3,995.
Read Boris FX's official news announcement of Boris FX Suite 2018
Tags: After Effects, Boris FX, Boris FX Suite 2018, camera tracking, compositing, Continuum, Continuum 12, editing, effects, masking, mocha Pro, Mocha Pro 6, NAB 2018, new features, nuke, object removal, particle animation, particle effect, Particle Illusion, particle system, particleIllusion, planar tracking, plugin, Premiere Pro, price, release date, rotoscoping, Sapphire, Sapphire 12, tracking