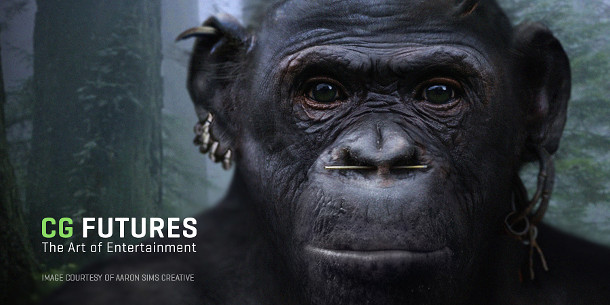 Legendary concept designer Aaron Sims is to give his first ever talk in Australia at the CG Futures conference, due to to be held in Melbourne from 2-4 March 2018.
The event also gives Australian artists a rare chance to meet US-based industry legends including Blizzard Entertainment art department supervisor Seth Thompson, plus local stars from Iloura and Rising Sun Pictures.
Building on the success of Gnomon Live Australia
Formerly known as Gnomon Live Australia, and curated with the help of Gnomon founder and president Alex Alvarez, CG Futures has been drawing artists to Melbourne's Abbotsford Convent since 2016.
Described by one previous attendee as "something the Australian industry has been needing for a long time", the three-day conference combines live demos, CG masterclasses and networking opportunities.
Speakers this year include Alvarez himself, alongside legendary concept designer Aaron Sims, founder of VES Award-nominated concept art and visual effects firm Aaron Sims Creative.
As well as being Sims' first speaking event in Australia, his session will be the first ever masterclass in ASC's new 'Sketch to Screen' training program, demonstrating the studio's unique creative workflow.
Speakers from leading local and international VFX and games studios
Other speakers include Blizzard Entertainment art department supervisor Seth Thompson,, who will be demonstrating the techniques he uses to create props for games like Overwatch and Diablo III.
He will be joined by freelance concept artist Furio Tedeschi, who will be demonstrating the hard-surface sculpting skills that has made him winner of Pixologic's ZBrush Live sculpt-off two years running.
Local VFX and animation studios are also well represented, with Iloura VFX supervisor Josh Simmonds discussing the studio's award-winning work on Game of Thrones, and Noah Vice, head of look development and lighting at Rising Sun Pictures, breaking down shots from Thor: Ragnarok.
Other speakers include Plastic Wax lead modeler Dean Wood, Blizzard Entertainment character modeler Jessica Dru Johnson, and senior artists from both Luma Pictures and PlaySide Studios.
For artists starting out in their careers, there is also a special masterclass on how to break into the industry from Alwyn Hunt and Andrew MacDonald, co-founders of international CG student awards The Rookies.
Dates, locations and ticket prices
CG Futures takes place at Melbourne's Abbotsford Convent from 2-4 March 2018. Standard tickets cost A$390 plus booking fees; students, new graduates and those looking for work get in for A$260 plus fees.
See the full speaker line-up for CG Futures 2018 on the event's website

Full disclosure: CG Channel is owned by Gnomon – School of Visual Effects, Games and Animation.
Tags: 2018, Aaron Sims, Aaron SIms Creative, Alex Alvarez, animation, Blizzard Entertainment, cg, CG Futures, Concept Art, conference, Dean Wood, event, festival, Furio Tedeschi, game development, Gnomon, Gnomon - School of Visual Effects Games and Animation, Gnomon Live Australia, Iloura, Jessica Dru Johnson, Josh Simmonds, Luma Pictures, masterclass, Noah Vice, Plastic Wax, PlaySide Studios, prices, Rising Sun Pictures, sculpting, Seth Thompson, speakers, tickets, vfx, visual effects, workshop, ZBrush