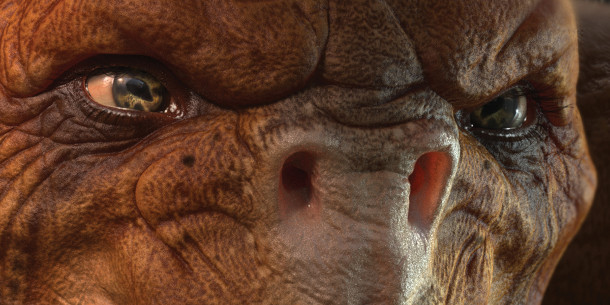 Personal art work by Neville Page. The Avatar and Cloverfield creature designer is one of the leading CG artists due to speak at Gnomon Live Australia, held in Melbourne and Sydney in March and April 2017.

Gnomon has announced the speaker line-up for Gnomon Live Australia 2017, its second annual Australian CG festival, due to be held in Melbourne and Sydney next March and April.
The two-city, two-weekend event will give local artists a rare chance to meet CG legends like Avatar creature designer Neville Page, Uncharted 4 environment artist Brian Recktenwald and Gnomon founder Alex Alvarez.
Returning to Australia by popular demand
Attendees of the first Gnomon Live Australia described its program of demos, masterclasses and networking opportunities as "a weekend that will change my life forever" and an "experience that money can't buy".
"This is something the Australian industry has been needing for a long time," wrote one delegate on the event's website. "We want more events like this."
Discover the workflows of leading VFX, games, animation and VR artists
Curated by Gnomon founder Alex Alvarez, Gnomon Live Australia 2017 will give attendees a chance to see leading artists share their workflows on films, AAA games, short-form projects and VR experiences.
This year's speaker line-up includes legendary concept artist Neville Page, creature designer for movies including Cloverfield, Avatar and Star Trek; Josh Herman, Character Art Director at Cloud Imperium Games; and Naughty Dog Environment Artist and Uncharted 4: A Thief's End veteran Brian Recktenwald.
They will be joined by art director and industry veteran Alex Nice, whose recent credits include Proto Award-winning VR experience The Argos File, and indie VFX film-making duo Miguel Ortega and Tran Ma, who recently completed work on the cryptozoology-themed, Kickstarter-funded period short The Ningyo.
Local arts curators Ideas on Design, who produced the 2016 event, will also present a program of talks by leading Australian studios and discussions of the challenges facing the country's CG industry
Ticket pricing and travel details
Gnomon Live Australia takes place at Melbourne's Abbotsford Convent from Friday 31 March to Sunday 2 April, and at Sydney's Factory Theatre from Friday 7 April to Sunday 9 April.
Prices for standard tickets start at $350, and early bird discounts are currently available.
Read more about Gnomon Live Australia on the event's website
(Includes pricing, travel information and an updated speaker line-up)

Full disclosure: CG Channel is owned by Gnomon – School of Visual Effects, Games and Animation.
Tags: 2017, Alex Alvarez, Alex Nice, animation, Australia, Brian Recktenwald, cg, conference, dates, event, Events, festival, game art, Gnomon, Gnomon - School of Visual Effects Games and Animation, Gnomon Live Australia, Josh Herman, Miguel Ortega, Neville Page, price, speakers, tickets, Tran Ma, virtual reality, visual effects, VR