Sunday, January 28th, 2018

Posted by Jim Thacker
Create free CG characters with Manuel Bastioni Lab 1.6.1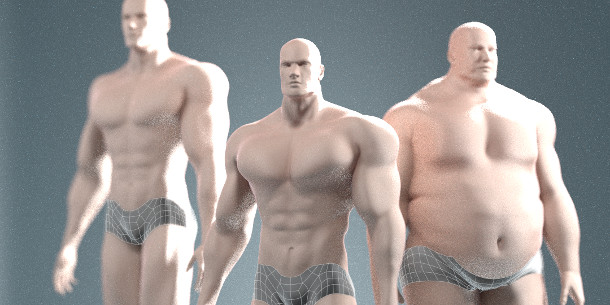 Updated: Manuel Bastioni Lab has been discontinued, but work continues on community fork MB-Lab.
Manuel Bastioni has released Manuel Bastioni Lab 1.0: an interesting new Blender add-on that turns the software into a "powerful laboratory for character creation", generating customisable rigged human figures.
The characters can be saved as Blender scene files, or exported in any of the file formats Blender supports, including FBX, Collada, OBJ and 3DS, for use in other 3D software.
Create rigged, poseable stock characters ready to use in any CG project
Manuel Bastioni Lab generates highly customisable human characters for use in CG projects, including the options to control gender, physique and 'anthropological phenotypes' – Caucasian, Asian, African and so on.
The meshes are anatomically detailed: the faces include eyebrows, teeth, tongues, eyelashes and gums, all integrated into the main mesh to minimise compatibility issues when exporting to other 3D software.
There is a good range of stock body types, including a preset for comic characters, plus a Mix setting to create new body shapes by blending existing presets.
The characters come with a standard skeleton, including individual finger bones; are fully weight mapped; and can either be posed using Blender's standard tools or by choosing from a set of built-in presets.
Facial expressions can be created by assigning a range of preset morphs, which the software automatically fits to the individual character. There are 40 facial morphs for realistic characters and 24 for anime.
The software also enables users to import a clothing mesh and fit it manually to a base character in a standard pose. The mesh will then automatically be conformed to any generated character or pose.
From the originator of MakeHuman
If that all sounds a bit like MakeHuman, there's a reason for that: Bastioni wrote the original Blender script on which MakeHuman was based, back in 1999, and continues to head up its development.
According to Bastioni, the new software is the fruit of 15 years of experience working on such projects.
As well as MakeHuman itself, the concept of a stock character creator was later picked up by commercial games tools like Autodesk Character Generator and Mixamo's Fuse.

Updated 5 May 2016: Manuel Bastoni has just released version 1.2 of Manuel Bastoni Lab, adding an interesting new 'auto modelling' system, shown in the video above.
Users can roughly modify a base figure – for example, by crudely scaling vertices to suggest an overweight character – and the software will automatically convert the result to a (reasonably) plausible 3D human.
The update also adds the option to generate characters by entering a series of real-world measurements like 'chest width' and 'head length'. Sets of measurements can be imported or exported in JSON format.

Updated 2 August 2016: Manuel Bastioni Lab 1.3 is out. The update adds a new skin editor and support for 'meta parameters' like character age.
The new skin editor enables users to set up realistic-looking skin shading through six simple slider controls. You can see the kind of results possible towards the end of the video above.
The system handles surface displacement as well as shading, automatically generating a suitable bump map. Older characters get more prominent wrinkles, while more muscular characters get more prominent veins.
The latter feature is driven by the 'meta parameters' system, also new in version 1.3, which enables users to control the form of a character using just three sliders for age, mass and tone.
You can read more about how both systems work, along with the other new features, in the release notes.

Updated 7 November 2016: Manuel Bastioni Lab 1.4 is out. The update adds five new base body types for fantasy character: male and female anime figures, male and female elves, and dwarves.
Outside the new figures, the update mainly improves existing features, including the facial topology and UV layout of the figures, the character rig and system for fitting clothes.
The update also reworks the toon shader, adding support for ambient occlusion and asymmetry in reflections and secondary tones. For a full list of changes in version 1.4, see the release notes.

Updated 17 April 2017: Manuel Bastioni Lab 1.5 is out. The update improves the topology of the character models, and overhauls the shading for skin, eyes and teeth, as shown in the video above.
The release also introduces support for motion-capture data in BVH format, with the software automatically retargeting the imported data to the character skeleton. Find more details in the release notes.

Updated 28 January 2018: Manuel Bastioni Lab 1.6.1 is out. The update focuses on hair, adding a library of four readymade hair models, plus new realistic and toon hair shaders for Cyles.
New features in the preceding 1.6.0 release include new IK controllers for skeleton rigging, a basic muscle system based on Blender's standard Bendy Bones, and support for phonemes for lip sync animation.
There have also been a series of improvements to the geometry of the base character models, which you can read about in the Development News section of the website.
Availability and licence conditions
Manuel Bastioni Lab is available for the current version of Blender, running on Windows, Linux and Mac OS X. The software is free, and provided under an AGPL licence.
Characters generated can be used under an Attribution 4.0 licence, making them easier to use in closed-source games.

Read an overview of Manuel Bastioni Lab on Manuel Bastioni's website
Read the online documentation for the software

Hat tip to BlenderNation for spotting this story.