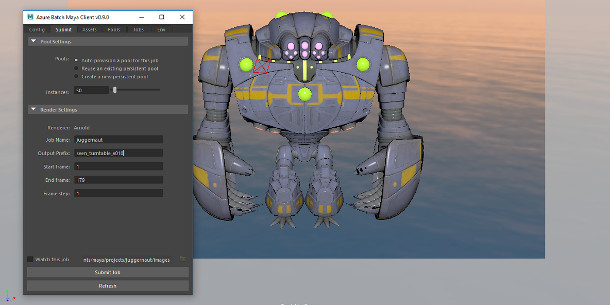 Autodesk and Microsoft have announced Azure Batch Rendering: a new on-demand cloud rendering service based on Microsoft's Azure cloud computing platform.
The system, which is still in private beta, lets users submit rendering jobs to the cloud from directly within 3ds Max, Maya or Arnold, automatically handling scheduling and scaling.
A 'highly available' cloud rendering service, accessible from within 3ds Max and Maya
Built around Microsoft's existing Azure Batch job-scheduling system, Azure Batch Rendering provides a "highly available, cloud-scale job and resource management service".
The system enables users to submit render jobs to the cloud directly within 3ds Max or Maya using Microsoft's open-source integration plugins, with Azure Batch Rendering taking care of "all the heavy lifting associated with job scheduling/queueing, managing failures, retry policies, and auto-scaling".
Users can also view logs from the virtual machines rendering their jobs, making it possible to troubleshoot problems manually.
Pricing and availability
Azure Batch Rendering is currently in private beta. You can register for the preview here. Pricing hasn't been announced yet, beyond the fact that this will be a pay-as-you-go service.
Read more about Azure Batch Rendering for 3ds Max and Maya on Microsoft's blog
Tags: 3ds max, Arnold, autodesk, Azure Batch, Azure Batch Rendering, cloud computing, cloud rendering, cloud-based, Featured Articles, job scheduling, Maya, on demand, pay as you go, pricing, private beta, release date